Libertarians Battle for Their Nomination
There's no reason why the Democrats should have all the fun. It looks like there is going to be a fight for the Libertarian Party's presidential nomination as well.
Ordinarily the Libertarians don't get much attention. Nor do their presidential candidates. Since the party's founding in 1971 (nine cycles ago), not one nominee has topped a million votes, though they usually make it to all 50 state ballots. Ed Clark, a California attorney, was the party's most successful presidential nominee to date, receiving 921,299 votes when he ran in 1980.
Many were anticipating the party turning to Ron Paul for this cycle. Paul, one of only six House Republicans who voted against going to war against Iraq in 2002, made a big splash in the blogosphere during his bid for the Republican presidential nomination this year, but not at the ballot box. He never came close to winning any primary or caucus, though he did manage to beat expectations in Montana (25 percent), North Dakota (21 percent), Maine (19 percent), Alaska (17 percent) and Minnesota (16 percent). But in the primaries that meant the most, he was barely a factor (8 percent in N.H., 4 percent in S.C., 3 percent in Fla., 4 percent in Calif.). Even in his home state of Texas, he managed just 5 percent. He is a shoo-in for re-election to his House seat.
But because he raised an enormous (and surprising) sum of money for his White House bid, and because he ran as a Libertarian for president once before (in 1988, when he was out of Congress), the expectation was that a repeat Libertarian bid this time wouldn't be so far-fetched ("I'm not leaving the Republican Party; the Republican Party has left me," as we envisioned his opening line). Yet, from all we've been able to see, he is not going to do it. In fact, although John McCain has long ago mathematically locked up the GOP nomination, Paul's Republican candidacy continues; he's even campaigning this week in Pennsylvania, in advance of the April 22 primary.
And it's not that other Libertarians have been sitting around waiting to see what Paul would do. Candidates already in the race for the party's nomination include Steve Kubby, a proponent of legalized marijuana for medical purposes who was the party's gubernatorial candidate in California in 1998; George Phillies, a physics professor at Worcester Polytech Institute and a former Massachusetts congressional candidate; and Wayne Allyn Root, a professional sports handicapper and author from Las Vegas.
Then it got interesting.
Last month, former Sen. Mike Gravel (D-AK), who — alas — is still seeking the Democratic presidential nomination, announced he was joining the party. "My libertarian views," said Gravel, "as well as my strong stance against the war, the military industrial complex and American imperialism, seem not to be tolerated by Democratic Party elites who are out of touch with the average American." He said he would continue his presidential campaign but now as a Libertarian, though it's worthwhile to note that last month Gravel announced he was supporting the presidential candidacy of Green Party hopeful Jesse Johnson.
Gravel's switch to the Libertarians was followed not long after by the news that ex-Rep. Bob Barr was forming a presidential exploratory committee of his own. Barr has been out of Congress since he lost a Republican primary in 2002 caused by redistricting. He joined the Libertarians in 2006. Announcing his intentions at a meeting of Libertarians in Kansas City, Barr said, "America today faces a grave moral and leadership crisis, and those of us who care about our country's future can no longer sit on the sidelines and remain neutral." A well-known fixture on cable TV who enjoyed tormenting President Clinton in the 1990s, Barr has long been a harsh critic of the Bush administration's policies on privacy and civil liberties.
The thought of Bob Barr and Mike Gravel fighting it out for the same party's nomination leaves us speechless.
The party will hold its nominating convention in Denver from May 23-26.
HISTORY: Here's the list of Libertarian presidential candidates and how they performed nationally.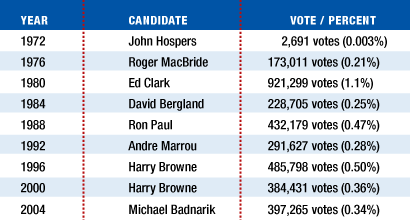 NOTE: When Hospers ran in 1972, the party was on the ballot in only two states. But the ticket of Hospers and Toni Nathan accomplished something that no third-party or independent candidate has since George Wallace in 1968: it received an electoral vote, as a "faithless" Nixon elector from Virginia voted for the Libertarians. That elector, Roger MacBride, was the party's presidential nominee four years later.
TRIVIA: Before the e-mails, a convoluted trivia question. As you know, Kansas defeated Memphis on Tuesday night in an exciting NCAA basketball tournament final. And this year also happens to be a presidential election year. When was the last time someone was elected president who came from the same state of the NCAA basketball tournament winner that was decided in the same year? (Answer below)
Lots of questions regarding last week's column, which focused on potential running mates for John McCain. Several e-mails dealt with personal rumors surrounding one or more of the prospective VPs. I am as aware as anyone of such rumors, and I agree that some of what is going around, if true, would be enough to disqualify them from consideration. But they are not issues I plan to address in this column. As long as they are rumors, or hearsay, I would rather leave the whispering to others. OK, back to the e-mails:
Q: How about McCain teaming with Colin Powell? As a Democrat, I would be worried about such a ticket — Tom Fama, Marlborough, Mass. (Similarly, Dave Forsythe of Portsmouth, Va., and Andy Hong of Los Angeles)
A: If one of the problems facing McCain, who is 71, is his age, then adding Powell to the ticket doesn't do him much good. Powell also turned 71, on Saturday. He publicly wrestled with a presidential bid in 1995 before eventually deciding against it, saying that running would require "a passion and commitment that, despite my every effort, I do not have for political life." Long popular with voters from both parties, Powell's star waned a bit after his address to the U.N. Security Council in February 2003 saying that the U.S. had evidence of Saddam Hussein's weapons of mass destruction. He was embarrassed over his role in selling the Iraq war and is on the record as having argued, unsuccessfully, against going to war in the first place. I'm not sure if a mixed message on Iraq is what McCain is hoping to present to the voters.
Q: Who cares if Colin Powell is not "red" enough? He'll bring over more Democrats. And where else will Republican conservatives go? Hillary or Obama? — James Jelen, Glen Ellyn, Ill.
A: Well, they certainly could stay home. As much as he needs independents and disaffected Democrats, McCain is in no position to write off the right.
Q: Why omit former Pennsylvania Gov. Tom Ridge from the list? In this very tough year for the GOP, why not add a pro-choice running mate to the ticket? Wouldn't it make sense to reach beyond the base, especially if it means carrying Pa. for the first time in two decades? — Tim Burdette, Pittsburgh
A: Ridge was thought to be on Bob Dole's short list in 1996 as well as George W. Bush's in 2000. I suspect that if naming a pro-choice running mate were in the cards, Ridge would have been part of the ticket either time. And while I still don't think Dole would have defeated President Clinton no matter who he had on the ticket, Ridge would have supplied far more chemistry than the one Dole eventually picked, Jack Kemp.
Q: Forget our pregnant governor Sarah Palin! She is a bad Vogue model and nothing more. She would be a disaster for the country from the point of view of either party. She does not have a clue about how to run government. — Cha-Lin Ke, Juneau, Alaska
Similarly ...
Q: Picking Gov. Palin, who would have just given birth, would be the absolute wrong "family values" message for the Republican Party. Leaving her new-born baby for the campaign trail would be ridiculous! — Teri Barnes, Savannah, Ga.
Alternatively ...
Q: I'm a big fan of Sarah Palin. I love the approach she brings to government and I love how she has tried to save the GOP by getting rid of its dead weight ... notably Rep. Don Young! — Nancy Connors, Washington, D.C.
A: McCain is not going to pick someone who (at this writing) is eight months' pregnant. To be honest, I had no idea of this when I was putting together my list of prospective VPs.
And as for Condoleezza Rice, even though I wrote last week that she has said over and over again she has no interest in running for office, a flood of e-mails indicates that a lot of people aren't buying it — a list that includes smart folks like Bruce Morton, the former CBS and CNN political correspondent, and Steffen Schmidt, the Iowa State political science professor who is known there as "Dr. Politics."
Q: How about this scenario? McCain wins the presidency, but the Democrats make big gains in the Senate, reaching 59 seats. Because McCain has to give up his Senate seat, the Democratic governor of Arizona, Janet Napolitano, appoints a Democrat to succeed him. Voila, the Democrats make it to 60. Plausible? — David Kramer, Rochester, N.Y.
A: I was about to say that it's hard to make the case that McCain wins the White House while the Democrats make huge gains in the Senate. But then I remembered the 2000 election, when George W. Bush was elected president but the Dems picked up four Senate seats to give them a 50-50 split — keeping the body in GOP hands only because of Vice President Cheney's tie-breaking vote.
And, while we're at it, Democrats picked up Senate seats in both 1972 and 1984, years when incumbent Republican presidents each waltzed to 49-state landslides.
Right now, the Democrats would need a net gain of eight seats to get them to 59. In a perfect year, they certainly could come close. Republican-held seats in Colorado (Wayne Allard retiring), Maine (Susan Collins), Minnesota (Norm Coleman), New Hampshire (John Sununu), New Mexico (Pete Domenici retiring), Oregon (Gordon Smith) and Virginia (John Warner retiring) are all certainly competitive. Some Democrats are becoming increasingly confident about Alaska, where 84-year-old Ted Stevens faces a tough opponent and a scandal. So on paper at least it appears doable. But at the same time, it remains to be seen how Dems do with Barack Obama or Hillary Clinton at the top of their ticket.
NEW MEMBER OF CONGRESS: Meet Jackie Speier, a Democrat from California's 12th District. A former state senator, she surpassed 50 percent in Tuesday's special election against four opponents and won outright the special election to succeed Rep. Tom Lantos (D), the chairman of the House International Relations Committee who died in February.
This was Speier's second bid for the seat. In an earlier life she was a top aide to a Lantos predecessor, Rep. Leo Ryan; she was with Ryan in Guyana in 1978, investigating reports that a cult leader, Jim Jones, had been holding followers against their will. Ryan and four others were murdered by cult members at the country's airstrip; Speier was seriously wounded. This occurred just hours before Jones and 912 of his followers died in a mass murder-suicide. Speier ran in the special election following Ryan's death but finished behind two other Democrats. With her win on Tuesday, the House is now 234 D, 198 R, three vacant.
OPEN HOUSE SEATS: We're going to wait a bit before officially adding one more member who appears to be leaving the House. Rep. Rob Andrews (D-NJ) has announced he is giving up his seat to challenge Sen. Frank Lautenberg in the June 3 Democratic primary. But there is tremendous pressure on Andrews to bow out of the Senate contest, and so we'll see if he backs off (though he insists he will not). Andrews' case against Lautenberg, presumably, is about the need for a fresh face; the senator is 84 years old. The last New Jersey senator to be ousted in a primary? Republican Clifford Case, in 1978, to conservative challenger Jeffrey Bell. Bell, in turn, lost to Democrat Bill Bradley in the general election. And the GOP hasn't won a Senate race in the Garden State since.
WHO'S BURIED IN KEN'S TOMB? Certainly not "Secretary of War" Ulysses S. Grant. Jeff Roberts of Ankeny, Iowa, correctly points out that I was wrong in asserting last week that Grant, not yet the 18th president, was secretary of war under President Andrew Johnson. Jeff writes, "Johnson tried to fire Edwin Stanton and replace him with Grant but was barred by the Tenure of Office Act, resulting in his impeachment. Grant never served."
TRIVIA ANSWER: The last time a presidential election winner and the NCAA hoops winner came from the same state in the same year? It was 2004, when Connecticut won the tournament and George W. Bush was elected president. (Bush was born in New Haven.)
ON THE CALENDAR:
April 16 - Democratic presidential candidate debate, Philadelphia (ABC).
April 22 - Pennsylvania primaries (presidential and state/congressional).
April 27 - Democratic presidential candidate debate, North Carolina (CBS).
May 6 - Primaries in Indiana and North Carolina (presidential and state/congressional).
May 13 - Democratic presidential primary in West Virginia. State/congressional primaries in Nebraska and West Virginia.
May 20 - Primaries in Kentucky and Oregon (presidential and state/congressional).
May 27 - State/congressional primary in Idaho.
IF IT'S WEDNESDAY, IT'S "JUNKIE" TIME ON TOTN: Don't forget to listen to the "Political Junkie" segment every Wednesday on Talk of the Nation, NPR's live call-in program, starting at 2 p.m. ET. This week: The Petraeus hearings on Capitol Hill, Mark Penn departs the Clinton campaign (or does he?), the Libertarians may have a fight for the presidential nomination, and the latest with the New Jersey Senate race. Remember, if your local NPR station doesn't carry TOTN, you can hear the program on the Web or on HD Radio. And if you are a subscriber to Sirius radio, you can find the show there as well (siriusly).
Next week's program will be before a live audience at the Newseum, Washington's new interactive museum dedicated to journalism. It's located on Sixth Street, N.W., between Pennsylvania Ave. and C St. Special guests will include former Rep. Barry Goldwater Jr. (R-CA) and John Dean, who have collaborated on a new book, appropriately titled, Pure Goldwater. It's from the diaries of the late Arizona senator.
IT'S ALL POLITICS: That's the name of our weekly political podcast. It's a combination of brilliant analysis and sophisticated humor, hosted each week by NPR's Ron Elving and me. It goes up on the Web site every Thursday and can be heard here. Want to subscribe? It's easy, and it's free! Go to the iTunes Web site, type in "It's All Politics," and voila. You'll be hooked!
******* Don't Forget: If you are sending in a question to be used in this column, please don't forget to include your city and state. *********
This day in political history: The funeral for the Rev. Martin Luther King Jr., murdered five days earlier, is held in Atlanta. A crowd of 150,000, including all the major presidential candidates, attends (April 9, 1968).
Got a question? Ask Ken Rudin: politicaljunkie@npr.org