Marcus Miller Performs Live in NPR's Studio 4A
Listen to this 'Talk of the Nation' topic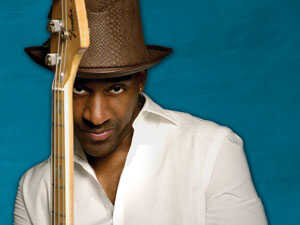 For nearly three decades, bass guitarist Marcus Miller has collaborated with some of the giants of pop and jazz. As a teenager, he made a name for himself as a young bass player in New York City, performing in jazz clubs and commercials and on Saturday Night Live. At 21, he was summoned to join the band of legendary jazz trumpeter Miles Davis, and Miller later wrote and produced three of Davis' albums.
"There's a lot of trumpet players who, when you hear them play, the only thing that you think is, Wow, you must practice a lot," Miller says, "but when you hear Miles, you go, Wow. I had a girlfriend like that."
Miller's decades-long collaboration with R&B great Luther Vandross led to multiple hits and won Miller his first Grammy for R&B Song of the Year. In 2001, Miller won his second Grammy: Best Contemporary Jazz Album for M2.
After decades playing jazz and R&B music, Miller says that there are three levels of musical skill. He describes the first level as knowing the tools of music, such as scales and notes. Level two is technique — when a musician becomes an expert at using the tools. But Miller says only greats (he lists Miles Davis and Stevie Wonder) reach level three.
"Level three is when you play as if you never studied a note," Miller says, "but you can express yourself as simply as when you're talking."
New musicians often get consumed by the tools, Milller explains. "But to continue as a musician, eventually you have to live life, and you have to try to express that life that you live through your music. So as long as I'm experiencing different things and feeling different emotions, there's always new music to play."
Miller is on tour promoting his ninth album, Marcus. He stopped by NPR for a live show with Patches Stewart on trumpet, Keith Anderson on sax, Poogie Bell on drums, Gregoire Maret on harmonica, Bobby Sparks on keys and Jean Baylor on vocals.