Okla. Superdelegate Wants to Be Left Alone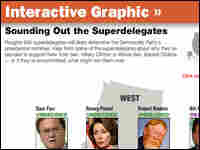 Oklahoma Democratic Party Chairman Ivan Holmes has a reputation for letting you know what's on his mind. But one thing he won't share is his choice for president, and because he's a superdelegate to the Democratic convention, people keep asking.
Scott Gurian reports from member station KGOU in Norman, Okla.