A Conversation with the Dalai Lama
A Conversation with the Dalai Lama
Stephen Brashear/Getty Images
The Dalai Lama renewed his call for "meaningful" autonomy for Tibet within China and said China, "whether intentionally or unintentionally," is carrying out "cultural genocide" in Tibet.
The Dalai Lama arrived in Seattle late last week to promote "compassion." He found himself talking about confrontation — in Tibet, in China and along the path of the Olympic torch.
Once again, the Dalai Lama is caught up in the complications of being both a spiritual and a political leader. And he carries the expectations of those who come to see him, including 55,000 people who filled Seattle's football stadium.
"If some people have the belief or view that the Dalai Lama has some miracle power, that's totally nonsense," he told the crowd. "I am just one human being."
The Dalai Lama insists he's just a simple Buddhist monk. He's also the winner of the Nobel Peace Prize and the head of a government-in-exile, who fled his land nearly 50 years ago after Mao Zedong sent China's army into Tibet.
'Much Worry' About China's Clampdown
In an interview Sunday with Renee Montagne, the Dalai Lama discussed his concerns about China's recent clampdown in Tibet.
"If things continue as it is, then tightening control will increase," he said. "So naturally, a lot of suffering, a lot of problems and great damage about Tibetan Buddhist culture. So there's much worry."
In his first public comments on the protests, Chinese President Hu Jintao took a hard line Saturday on the unrest in Tibet, saying problems in the region are an internal affair that directly threatens Chinese sovereignty.
"Our conflict with the Dalai clique is not an ethnic problem, not a religious problem, nor a human rights problem," Xinhua quoted Hu as saying, referring to supporters of the Dalai Lama. "It is a problem either to safeguard national unification or to split the motherland."
In the interview, the Dalai Lama called Hu's remarks "quite strange but OK if they really enjoy to attack [me] .... People, I think, don't believe that. Even the Chinese people."
China's Control of Information
The Dalai Lama said he's saddened by the negative image of him painted by China's government-controlled media.
The Dalai Lama said "millions of Chinese — those innocent Chinese — who have no other way to access the situation, totally rely on the government information. These millions of Chinese then really feel anger towards me. At that I feel very sad. What's the way to tell these innocent Chinese brothers [and] sisters the reality? But there's no way to send information or to send news."
The Dalai Lama has said he does not support a boycott against the Summer Olympics being held in Beijing this August, but he also backs people's right to demonstrate — "provided [it's] strictly non-violent."
The Dalai Lama said the freedom of speech is very important. He noted that even in Tibet and "among our friends, some are very, very critical towards me," saying he's too moderate.
"For example, my own elder brother one time described me as a traitor" to Tibet, the Dalai Lama said.
"But I never say to these people, 'Shut up.' ... It's their right to express what they feel."
Holding on to a Culture
The Dalai Lama said Tibet gains many benefits by remaining part of China, but it must hold on to its cultural heritage.
Tibet is "materially backward," he said. "Every Tibetan" wants a "modernized Tibet," he added. "It's their right: more prosperity, better [facilities for] education, health and daily life. So in this respect, China [is] becoming richer and richer. So therefore, [Tibet should] remain within the People's Republic of China. As far as material development is concerned, we gain much benefit.
"Since we have our own unique cultural heritage, including our language, our script, these matters should be in the hands of [Tibetans who know] about our culture, about our religion," the Dalai Lama said.
He agreed that Tibetan culture is in the process of being destroyed or overwhelmed by China.
"With this present arrangement, whether intentionally or unintentionally, some kind of cultural genocide is taking place," he said.
The Dalai Lama said China's central government should be in charge of foreign affairs, but "the rest of local business should be in the hands of Tibetans. Autonomy is meaningless just on paper. So we are appealing to the Chinese central authority: Now give us meaningful autonomy. ...
"In the constitution in the early 1950s, Chairman Mao recognized [the] Tibet case is something very special. So if [the] Chinese government [keeps] that spirit, then these problems will not happen."
As the interview ended, the Dalai Lama was asked one last question: Do you think you'll see Tibet again?
"Yes, we believe, we believe," he said with a hearty laugh.
This report includes material from the Associated Press.
Dalai Lama Draws Strong Reactions on Both Sides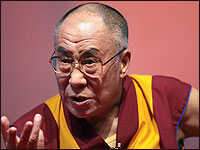 The man U.S. lawmakers have chosen to receive the Congressional Gold Medal is as complex as the problem he has spent most of his life trying to resolve – the relationship of China to his homeland, Tibet.
And while he's widely admired for advocating peace and nonviolence, the 14th Dalai Lama is sometimes reviled for his willingness to accept that Tibet should remain tied to China. He has described himself as "half Marxist, half Buddhist."
Tenzin Gyatso was born in an isolated semi-feudal theocracy, in which many people were still serfs on the land belonging to monasteries and big landowners.
In 1937, when he was two years old, the boy was identified by a search party of monks as the reincarnation of the 13th Dalai Lama. The story is that the child chose some of his predecessor's possessions from a pile of other objects and proclaimed them to be "mine." Tenzin came from a family of well-to-do farmers, and his elder brother had already been named as the reincarnation of another important religious figure.
Moving to Lhasa
The boy was taken from his family to be reared by monks in Lhasa, the religious center of Tibetan Buddhism, but his education wasn't entirely religious. When he was 11, he met the Austrian mountaineer Heinrich Harrer, a former Nazi storm trooper who had taken refuge in Tibet after escaping from a British prison camp in India. Harrer became one of the young Dalai Lama's tutors, teaching him about the outside world. Harrer later recounted his story in the book Seven Years in Tibet.
In 1950, the 15-year-old Tenzin was formally enthroned as the Tibetan head of state, but his domain was already crumbling. Just a month earlier, an army from the Peoples' Republic of China had invaded eastern Tibet. Within a short time, the Chinese had occupied enough territory to force the Dalai Lama's government to negotiate. In 1951, the Tibetans signed a 17-point agreement that acknowledged Tibet to be part of China, but which also promised that the country's government wouldn't be changed — and that Tibet would be able to exercise autonomy.
Living in Exile
Tibetans later charged that China had reneged on the agreement by attempting to assimilate Tibet into the communist system.
In 1959, after a failed Tibetan uprising against the Chinese, the Dalai Lama and tens of thousands of his followers fled Tibet to Dharamsala, India, where they established a government in exile. Nearly 40 years later, the exile administration acknowledged that it had received $1.7 million a year in funding from the American CIA during the 1960s.
The funding was part of the CIA's secret program to undermine communist governments, especially in China and the former Soviet Union. A yearly subsidy of $180,000 was earmarked for the Dalai Lama, but his government denied that he ever personally benefited from the money. The United States cut support for the Tibetans in the early 1970s, and later normalized relations with the Peoples' Republic of China.
Campaigning for Support
During his exile, the Dalai Lama has traveled extensively, campaigning for international support for his vision of a democratic, autonomous Tibet "in association with" China.
He gained enormous popularity in the West, where he is credited with helping the spread of Buddhism and working for understanding with leaders of other faiths. He also attracted a following among Hollywood celebrities, including actor Richard Gere and action-movie star Steven Seagal.
The Dalai Lama has been honored for his commitment to human rights and nonviolence, most notably with the Nobel Peace Prize in 1989. The prize was seen by many as a rebuke to China, which had massacred student protestors in Tiananmen Square that year, and the Dalai Lama criticized Chinese leaders in his acceptance speech.
He has also been a strong advocate for environmental protection and won the Earth Prize from the U.N. environmental program in 1991.
Critics such as writer Christopher Hitchens have drawn attention to positions taken by the Dalai Lama that are less popular in the West, including his support for nuclear testing by India and his prohibition on the worship of a local, non-Buddhist deity in Tibet. Hitchens also cites the Dalai Lama's one-time association with Shoko Asahara, the leader of a Japanese religious cult that spread poisonous nerve gas in the Tokyo subway system.
Hitchens alleges that the Dalai Lama was influenced by a large donation from Asahara's group.
The 72-year-old Buddhist leader has spoken recently of "retiring" from his political activities, in part by giving more responsibility to the Tibetan parliament-in-exile. A spokesman said he will transfer his political duties "over a period of time." The spokesman added that the Dalai Lama "will inevitably continue to be a spiritual leader."