Q&A: Expert Finds Warmer Climate for Advocacy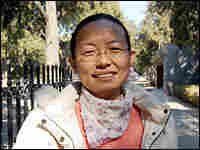 Hear the Interview
Michele Norris interviews climate change expert Chen Dongmei.
During my trip to Beijing last month, I dropped in on WWF China. In the U.S., the group is known as the World Wildlife Federation. In other countries, it goes by the name World Wide Fund for Nature. You may recognize the organization by its logo: the panda.
In addition to conservation work, WWF China is also deeply involved with climate change.
The nonprofit organization works with businesses, cities and China's central government on building awareness and promoting sustainable development. I was interested in how much influence an organization like WWF has in China.
How does an international group press its agenda in a one-party communist system where government officials usually regard advocacy groups with suspicion? In a place where homegrown nongovernmental organizations, or NGOs, have to register with the government, turning them into something called GONGOs: government-organized non-governmental organizations?
To find out, I met with 36-year-old Chen Dongmei, director of the Climate Change and Energy Program for WWF China. She knows her way around the system in China because she used to work for two government ministries.
How do Chinese people view climate change?
Generally speaking, the awareness about climate change among Chinese citizens is not as high as that in Europe and the U.S. If you raise a question on the street to ordinary people, the first thing they'll give you is "Yes, it's true. The temperature in summer is getting higher and higher, and we don't see so much snow in winter." It's a kind of climate signal, they can tell. But as to the consequences, and the implications of climate change to their lives, to their businesses, not so many people understand that.
You're trying to change that.
Yes.
What's the foremost thing an NGO can accomplish working in a country like this?
Well, in China, the ground for the NGO work is a little bit different from that in Western countries, because it's not such a democratic country and [does not] give a voice for NGOs officially. Our colleagues working in other countries will be consulted on policy developments; they will be consulted for the final approval of some decisions. But here in China, we are working in a different way. In the official decision-making procedure, NGOs are not part of that.
Is there a way you apply gentle pressure to make sure that this issue remains high on the agenda?
Yes ... For sensitive issues, for example the climate-change negotiations, we need to make sure what the bottom line is, what kind of position as WWF China we should take. What we are doing is not against the government. What we are doing is just to make the country more healthy and make climate change into real action. And working with businesses, with the public, with the media, is something we feel more free [to do]. We have more freedom, many more resources, to enhance that action.
How are you viewed in the central government? How do the people who make key decisions on climate change view an organization like yours?
There are two different views. For some very old, senior [officials], they have worked for a long while. They have some kind of prejudice [against] international NGOs. They say, "OK, they are international ones, be careful, don't give them some really confidential information," even though we don't think it's confidential. But they feel a little bit nervous.
But for more and more new and open-minded government officials, they think international NGOS like WWF are good partners for them, because we never hurt them, we are never against them. But what we're doing is helping them to meet their own targets.
It takes time. And also you have to understand what the country needs. What are the barriers [officials] are facing? And also, what do the government officials want to get from you? What's your strength? If you're clear on that, you will work with them very successfully.