Rogue Wave Rocks at 'Heaven's Gate'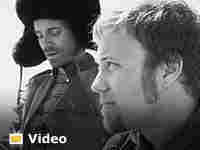 The last year or so has been a roller coaster for Rogue Wave. Guitarist Gram LeBron's father passed away. Drummer Pat Spurgeon spent much of the time between gigs on dialysis, before a kidney transplant finally came through and saved his life. Former bassist Evan Farrell was killed in an accidental fire. Frontman Zach Rogue's grandfather passed away, and weeks later his first child was born.
Meanwhile Rogue Wave earned critical acclaim for their latest album, Asleep At Heaven's Gate, and this summer they'll open for Jack Johnson and Death Cab for Cutie. On Monday, Zach Rogue and Pat Spurgeon visited the BPP studio to discuss the past year of life and music and to play several songs, including "Lake Michigan."