Stealing the Show with A Single String
Teens Play the Classics in Boston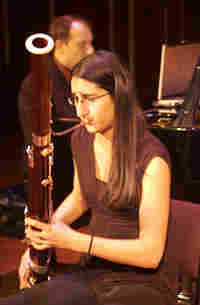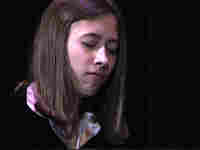 This week's show, from New England Conservatory's Jordan Hall in Boston, includes a 16-year-old violinist playing Gershwin, a teenage bassoonist who can solve a Rubik's Cube in under two minutes, and a 13-year old cellist from Boston who plays some devilishly difficult variations on a single string.
Thirteen-year-old Jonah Ellsworth says he has two personalities.
"I have one with my friends at school, and another personality with the people I play with at the New England Conservatory on the weekends," he says. "I guess you could say I'm more humble and controlled with my musician friends."
Ellsworth's classmates have never heard him play. His life at school mostly centers on athletics. As captain of his volleyball team, Ellsworth led his players to the championship in Cambridge. He says another passion is soccer. "I love it, but I'm absolutely terrible at it," he admits. "I can't seem to control my feet!"
Jonah is in total control when he plays his cello, however. He dazzled the From the Top audience by playing Paganini's Variations on One String on a Theme of Rossini, a piece written originally for violin and played entirely on one string.
Sixteen-year-old bassoonist Sarah Abraham agrees with the old stereotype of the bassoon as the clown of the orchestra.
"My section of the youth orchestra is known for messing around," she says. "Whether it's decorating our bassoons with Santa hats for the Christmas concert, or playing everything an octave higher to make fun of the flutes, it's all about having fun."
Abraham says she also has fun with math, especially in her calculus class at school. "I'm a math geek and proud to be one!"
Perhaps it's the math that makes Abraham a whiz at solving the Rubiks Cube. "One of the keys is that the centers don't move," she explains. "It's just a matter of arranging the pieces around that, and solving it in layers." It takes Sarah one to two minutes to solve the puzzle. "I'm not that fast," she shrugs.
Abraham plays music from the Sonatine by Alexandre Tansman.
Hannah Ji started Suzuki violin lessons when she was five years old. Her very first "violin" was actually a cookie box with a ruler attached to it.
"My mother filled the cookie box with candies," recalls Ji. "Whenever I did well, she would open the box and give me one."
After a year of learning the basics, Ji was given a real sixteenth-size violin. "I was so excited," she recalls. "My teacher handed me my violin, and I ran right over to show my mom. After two steps, my knee crashed into the violin and smashed it to pieces!" Thus began a string of bad luck with violins. Ji accidentally broke several more fiddles before finding some success with her first full-size model.
But when Ji, now 16, learned she had received the $10,000 Jack Kent Cooke Young Artist Award, she knew exactly what she would do with it. "A new violin," she says with a smile. Ji plays two of Gershwin's Preludes.
Pianist Arianna Körting, 13, loves three things: practicing the piano, singing, and traveling. She's been to Bangkok, where she rode on the back of an elephant, and Prague, where she played for the Philippine and Canadian Ambassadors to the Czech Republic. Whenever she travels, Körting makes a point of practicing piano every day.
Körting is proud to be a member of the Cleveland Orchestra Children's Chorus, the Contemporary Youth Orchestra Chorus, and the Disney Pop Squad. She also has perfect pitch. "My family plays a game with me," she says, "where they ask me to identify the pitches of a siren going by or the hum or the dryer. I have non-stop music going on in my head."
Körting plays Jeux d'eau by Maurice Ravel.
Seventeen-year-old Joseph Morris loves collecting clarinets.
"Some people tease me because I'm always playing a new clarinet," he says. "At first it was just a B-flat and an A clarinet. Then I added an E-flat. Then, when a C clarinet came about, I jumped at the opportunity to buy myself a C clarinet!"
Morris dabbles in jazz, but mostly sticks to classical, which is his favorite style of music. "A lot of my friends are into hard rock," he says. "I wish I knew how to explain to them that music by Mahler or Beethoven can be just as hardcore as music by Metallica."
Morris plays "Viktor's Tale" from the motion picture The Terminal by John Williams.
This program originally aired on April 16, 2008
Watch Jonah Ellsworth play Paganini on a single string.