New Plant Growth Masks Fire Risk in California
New Plant Growth Masks Fire Risk in California
Courtesy Irvine Ranch Conservancy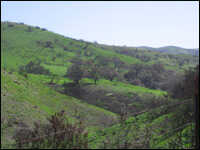 Courtesy Irvine Ranch Conservancy
Spring has brought a carpet of green to Southern California hillsides burned by last fall's wildfires. But ecologists say some of the lush, new growth isn't a good thing. In fact, it may be a sign that the Golden State will face more big fires.
Orange County, south of Los Angeles, is one of the areas at risk. Best known for shopping malls and Disneyland, it is also home to tens of thousands of acres of wildlands. In October, nearly 30,000 acres burned there in a single fire. Lately, much of the area, once covered with cinders, is filling in with a brilliant green.
David Olson, director of science at the nonprofit Irvine Ranch Conservancy, which manages some of the lands, doesn't see beauty in the new growth.
"Those areas are highly dominated by non-native species that sprout very quickly," he explains.
Crowding out Native Plants
Introduced hundreds of years ago by Spanish colonists, non-native plants tend to germinate much more rapidly than native plants. Consequently, the fire-tolerant grasses, deeply rooted shrubs and cactus that make up the native sage scrub ecosystem are being squeezed out.
A takeover by non-native plants worsens the fire risk, says Jon Keeley, who studies wildfires for the U.S. Geological Survey. Native shrub lands probably are susceptible to fire for about half the year, he explains. But if they are taken over by non-native grasses, which tend to dry out quickly, the fire hazard extends year-round.
"All it takes is a few days without rain," Keeley says, "and most annual grasses will carry a fire."
That is especially true if the fire is driven by the dry Santa Ana winds, which tend to sweep through Southern California in late fall and winter. With gusts ranging from 50 to 100 mph, Keeley says, it isn't uncommon for the winds to spread a fire across 10,000 to 20,000 acres in a single hour.
Signs of Rejuvenation
Not all of the burned areas are being taken over by non-native species. Part of the conservancy looks pretty much the way ecologists say it should: Fire-blackened oak trees rise above a field of low, leafy plants, knee-high shrubs and an explosion of wildflowers.
But even in this spot, non-native species are gaining a foothold. Field biologist Jutta Berger, who also works for the conservancy, pulls a large black mustard plant out of the ground. "Maybe that'll make a little bit of difference," she says with a laugh.
Mustard is one of the most common invaders in California. Its yellow blossoms decorate fields and hills up and down the state. But Olson and Berger say that mustard and other non-native species are more than a fire risk; they can push out wild animals in addition to native plants.
"[Animals] don't find good food or forage within the non-native habitats," Olson says. "They often don't find places to build their homes or their nests."
Unless native plants are restored, scientists say, the animals risk being displaced, and the fire season could grow longer.
Correction
April 18, 2008
In the broadcast version of this story, the United States Geological Survey was incorrectly identified as the the United States Geological Service.