What's Up with Pa.? A Voter's Tour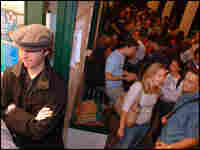 With Pennsylvania's primary just a week away, Philadelphia Daily News senior writer Dave Davies offers a quick snapshot of the mid-Atlantic state that stretches to the Midwest and is home to 12.5 million Americans.
Davies says that African-Americans, numerous in Philadelphia and other cities, and young voters are trending towards voting for Sen. Barack Obama (D-IL). "Everybody expects them to turn out in big numbers," he says. "A lot more of them have been registered and energized in this election ... and nobody's quite sure how big a boost that's going to be." Davies says Sen. Hillary Clinton's (D-NY) strength, meanwhile, is in rural areas and towns, where 40 years ago there were coal mines, steel plants and good union jobs. "They feel good about the '90s and what the Clintons did."
Obama, Davies says, has been making headway, especially in the vote-rich counties outside Philadelphia. "A lot of the undecideds in the states are there," Davies says. "It's interesting to see that when Barack Obama has been to the Philadelphia area, every major public appearance has been in the suburbs."
Both candidates, Davies says, have mostly eschewed previous focuses on immigration policy for more discussion on the faltering economy. Obama may make the better speech, Davies says, but it's been tough for voters to distinguish much of a true policy difference between the Illinois and New York senators.
"These candidates are so close on so many issues," Davies says. "People really look at them and look at their individual leadership characteristics. Hillary is this wise, competent leader ... and Barack is this embodiment of new politics that gets beyond cynicism and partisanship in Washington."
Davies says Clinton will try to make a big push for support in Wednesday's debate in Philadelphia. "She's a scrappy fighter and brings a lot to the game," he says. But "the clock is running out ... to make a credible case for the nomination."