Clinton's Female Base Wavers Ahead of Pa. Primary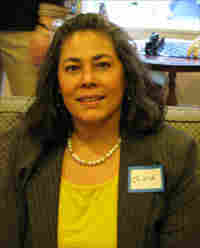 As the Pennsylvania primary approaches, Sen. Barack Obama (D-IL) appears to be cutting into Sen. Hillary Clinton's (D-NY) once imposing lead in the state.
Polls show Obama gaining ground — even with one of Clinton's strongest groups of supporters: younger, middle-class women who are rising through the professional ranks much the way that Clinton did.
Many professional, married women, such as financial analyst Debbie Bernstein, live in a Montgomery County suburb north of Philadelphia.
Bernstein started out not caring which candidate won because she liked both Clinton and Obama. But as time went on, she says, she started "to switch gears."
"I felt that I identified more with Sen. Obama," Bernstein says. "I felt that he addressed the issues that I was looking for, and I felt that he had the inspiration to move the country forward."
Olivia Brady is a systems analyst who felt a similar drift away from Clinton, although not entirely because she was attracted to Obama.
"There was a time there that I wavered toward Obama because I thought the campaign was so negative, and I really was turned off by that," Brady says. "But then, as I thought about it, and I looked at who I would rather see in the White House" she says, "I came back to thinking that Clinton would fit that role better."
One woman, Linda Hee, described her views as "evolving" in the course of the long campaign. Hee, an attorney representing a non-profit, studied the candidates.
"I had both of their books. I got about halfway through Sen. Clinton's book. I found it really hard to read," she says. "When I read Sen. Obama's book, I was staying up nights reading his book. I found it very compelling."
Hee says she felt Obama had a "spirit" she admired.
But Obama's difficulties in the latter part of the campaign, including his defense of his controversial former pastor and his description of "bitter" people left behind by the current economy, did make a difference to the young professional women of Montgomery County.
Carolyn Coleman, a hospital administrator, says it confirmed her view that Clinton would be a better general election candidate.
"I read the quote in the newspaper. My first reaction was, 'Wow.' I can't believe that he actually said it. It's so insightful, and it's accurate," she says.
Then, she realized that his opponents might take Obama's comment and spin it. And that, she says, is what concerns her about Obama: his honesty in a national campaign, where the Republicans are waiting to pounce.
But both sides still have months of campaigning ahead, since the primary season has gone on for so long. Regardless, Debbie Bernstein says she is having a wonderful time.
"For Pennsylvania, it's a great thing. Our vote never really mattered before," she says.
In fact, the states that moved up in the batting order have not had anything like the influence that Pennsylvania will have on the Democratic contest next Tuesday.