Teens Tackle the Classics in San Francisco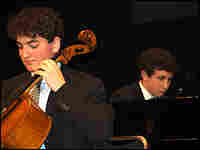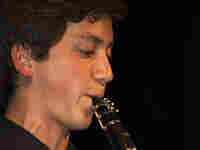 This week, from San Francisco's Herbst Theatre, a 12-year-old pianist confronts a tricky Hungarian Rhapsody, a teen string quartet plays music by Ravel, and a virtuoso clarinetist from Costa Rica confesses his nostalgia for soccer and salsa dancing.
Sixteen-year-old violinist Zenas Hsu, from San Jose, Calif., was accepted one year early to study at the Curtis Institute of Music, in Philadelphia.
But Hsu says his audition for Curtis wasn't easy. In fact it was more like a nightmare.
"At first you're pretty happy to have the opportunity to do something that might change your life," he says. But as he waited to play, his upbeat mood began to erode. "When I left the audition room I felt dazed, like I'd been in a car crash."
Despite the experience, Hsu's nightmare turned out to be more like a good dream come true when learned he was accepted into the prestigious school. His teacher is the renowned violinist Ida Kavafian.
Hsu plays music from the "Kreutzer" sonata by Beethoven, accompanied by Christopher O'Riley.
Seventeen-year-old Gabriel Campos is from Costa Rica, but he studies at the Interlochen Arts Academy in Michigan. "I certainly miss the salsa dancing," he says, "but most importantly, I miss soccer. The first thing we see when we're born is a soccer ball!" Campos, a recipient of the Jack Kent Cooke Young Artist Award, hopes to play in a major symphony orchestra one day. He performs the Solo de Concours by André Messager.
The members of the Los Angeles-based Colburn School Honors String Quartet have played together for slightly more than a year, but have known each other for much longer — and they're great friends.
"We like to talk a lot," says violinist Rachel Sandman. "It's definitely an issue when we're trying to practice!" They don't mind criticizing each other, either, and believe that their honesty makes them better players. "Criticism is helpful," says Sandman, "and everyone needs improvement!"
Two of the quartet members have strong connections to the L.A. Philharmonic. Cellist Andrew Hayhurst's father has played viola in the orchestra for 20 years. Jocelin Pan has found great inspiration in her teacher, Alexander Treger, the orchestra's concertmaster.
The Quartet plays music from Maurice Ravel's String Quartet.
Twelve-year-old pianist Rieko Tsuchida got the piano-playing bug from her older sister. "I wanted to play like her," says Tsuchida. These days, Tsuchida takes inspiration from superstar pianist Lang Lang, with whom she has taken a master class. "It was great, and he gave me lots of wonderful suggestions," she says.
Tsuchida performs the Hungarian Rhapsody No.11 by Franz Liszt.
Cellist Julian Schwarz and pianist Daniel Walden met at the Aspen Music Festival. "I went there eager to play the great sonata repertoire, and it just happened that my roommate was Danny," recalls Julian. "A lot of kids our age don't focus on chamber music, but Danny was eager." The two joined forces and the musical duo was born. They play music from the Cello Sonata, op. 6, by Richard Strauss.
This program originally aired Sept. 19, 2007.