Analysis: Debate Focused on Candidates' Gaffes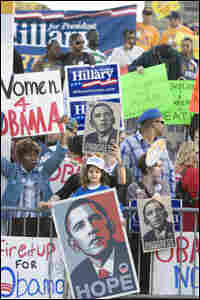 Robyn Beck/AFP/Getty Images
In the 21st meeting between Democratic candidates for president since the campaign began more than a year ago, New York Sen. Hillary Clinton once again demonstrated her mastery of the format with confident, well-formed answers to policy questions.
Her rival, Illinois Sen. Barack Obama, seemed less at ease, choosing his words with more hesitation and laboring to explain his recent comments on small-town voters and his associations with two controversial individuals in Chicago.
But Clinton had difficulties of her own when the debate focused on challenges facing her campaign. She gave an elaborate answer to questions about her errroneous recounting of a tarmac incident in Bosnia in 1996, an answer that ended with an apology. "I may be a lot of things but I am not dumb," she said, adding that she was sorry she she had "said some things that weren't in keeping with what I knew to be the case."
When questioned about her reported statements that Obama could not win in the fall, she was unable to escape with her equivocal answers from the past. Pressed on the point by ABC News' George Stephanopoulos, she finally said "Yes, yes, yes," before adding "I think I could do a better job."
The debate's moderator was ABC's Charles Gibson, who wasted no time getting to the controversy over Obama's reference to "bitter" voters in small towns who might "cling" to guns, religion or antipathy toward other groups of people as a defense mechanism in hard economic times. Obama once again apologized for what he called "mangled up" words, but said again that the emphasis on social issues in recent political seasons had made it harder to deliver economic relief to those who needed it most.
Clinton was quick to say her grandfather had been a factory worker in Scranton, Pa., and that Pennsylvanians devotion to God and guns was quite independent from economic conditions.
Gibson and Stephanopoulos also pursued Obama on his connection the Rev. Jeremiah Wright, his pastor until his retirement in Chicago. Wright's blistering critiques of America, captured on videotape, have recently been widely viewed on the internet and cable TV programs. They also raised another personal connection familiar in the blogosphere, the acquaintance of Obama and William Ayres, an English professor in Chicago who once belonged to the underground leftist cell called the Weather Underground. The group took responsibility for several bombings in the 1970s.
When Obama called these associations a distraction from issues people really cared about, Clinton bore in, insisting they would all be fodder for a no-holds-barred campaign in the fall. Obama pushed back by noting two members of the Weather Underground had their sentences commuted by Clinton's husband.
In their closing statements, the candidates were asked to make their respective cases to a theoretical gathering of Democratic superdelegates. These are the elected officials and party officers whose votes will be needed to make either candidate the nominee. Both candidates took on a distinctly populist tone in responding.
"I have a plan to take away $55 billion of the giveaways and the subsidies that the president and Congress have lavished on the drug companies and the oil companies and the insurance companies and Wall Street," said Senator Clinton. "And I have a plan to give that money back — give it back in tax cuts to the middle class — people who deserve it, who have been struggling under this president."
For his part, Obama revisited the basic themes of his candidacy, which he called a bet on the American people.
"Most importantly, I believe that change does not happen from the top down, it happens from the bottom up. And that's why we decided we weren't going to take PAC money or money from federal registered lobbyists, that we were not going to be subject to special-interest influence, but instead were going to enlist the American people in a project of changing this country."
Neither candidate was willing to commit to offering the vice presidency to the other if nominated, and neither would commit to accepting that spot on the ticket if offered. Neither was willing to specify how that might call on the current president to assist them in office. But Obama did have praise for the foreign policy of the first President Bush.
On matters of policy, the two agreed far more than they disagreed, as has been their pattern. Both said they wanted to respect the right to own guns, including handguns, but wanted to restrict access to guns for criminals and the mentally unstable.
Both said they wanted to begin withdrawing U.S. troops from Iraq once in office, but neither would rule out a residual force in the area.
Both said they wanted to allow the tax cuts President Bush got enacted in 2001 and 2003 to expire, and both said they foresaw higher taxes on the wealthy. Obama said he wanted to raise the cutoff point for Social Security payroll taxes ($102,000 for 2008) but was willing to consider phasing the tax out and reinstating it for the highest incomes only.
Both said they would commit U.S. forces to defend Israel, with Senator Clinton saying she would use "massive retaliation" to counter a nuclear attack on Israel by Iran and Senator Obama saying he would favor taking "appropriate action."
The debate at Philadelphia's Constitution Center took place six days before Pennsylvania holds its primary, the last of the ten most populous states to do so. One more debate has now been scheduled for April 27 in North Carolina, which holds its primary on May 6.
At this juncture in the campaign, national polls show Obama with an advantage of 3 points to 13 points. But Clinton continues to lead in Pennsylvania, where several polls by national newspapers and TV networks have her leading by 5 points and more.
The crucial test appears to be the preferences of the superdelegates, the 796 elected officeholders and party officials who will attend the convention and vote. Earlier this year, Senator Clinton led among declared superdelegates by 100 or more. That lead has been steadily reduced and now stands at fewer than 25.