Canada Offers Farmers Cash to Kill Surplus Hogs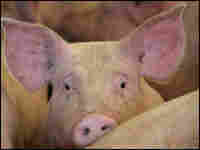 The Canadian government announced that it would pay pork producers as much as $50 million to kill 150,000 pigs by fall. It's an effort to reduce supply in order to raise the price of pork and help struggling hog farmers, says Clare Schlegel, president of the Canadian Pork Council.
"It's really a perfect storm," says Schlegel, a hog farmer himself.
"I'm going to try to weather the storm," he says. "We've been successful over 30 years ... but we're trying to reduce costs, we're trying to buckle down and become more productive. We believe long-term that the hog business will be profitable."
Schlegel says that is not the case for many other farmers who are facing three main obstacles. First is the unprecedented rise in the value of the Canadian dollar — now trading about par with the U.S. dollar — which means pork prices north of the border have halved. Meanwhile, feed prices have almost doubled, which Schlegel says is primarily due to ethanol demand and fuel policies.
Thirdly, Schlegel says, a cure for a difficult hog disease called circle virus has worked "wonderfully" — and cruelly — for the industries in Canada and the United States. "Our pigs are healthy, happy — they're growing and making it to market," he says.
The overabundance of pigs means too many people aren't making enough money. But certain commodities that suffer a drop in price will be buoyed by a growth in demand.
"The market is dynamic," Schlegel says. "People generally don't eat a lot more pork just because it's a little cheaper. That's what's called an inelastic market. We're 10 percent more than last year. ... The world demand for pork is growing at about 1 percent to 2 percent a year. So this is way beyond what simply is acceptable."
In order to bridge that gap between supply and demand, Schlegel says, Canada plans to eliminate 2 percent of the North American breeding swine. "Canada and the United States are about 50 percent of the world export market," he says, indicating the global significance of the North American market.
Those "eliminated" hogs will be killed — and not all of the meat will end up on dinner tables. Schlegel says food banks in Canada will receive 25 percent of the rendered meat, and the rest will go to the pet food industry.
"We're very proud of being food producers," Schlegel says. "It's a noble career. ... It's one of the few professions that affects very basic needs for people."
As for a noble goal of, for example, shipping the food to Haiti's poor, Schlegel says that would be impractical, citing food safety reasons, matters of cost and potential problems from flooding a fragile market with free meat. "We don't want to simply transfer our pain to farmers in other parts of the world."
For some hog producers in Canada, the idea of culling is just too much — and too late. "A number of our farmers are losing their farms," Schlegel says.
"You live where you work. Your entire being is tied up in your farm operation. ... Many of us have lost our hope for the future."