Housing Woes Force Some Families to Split Up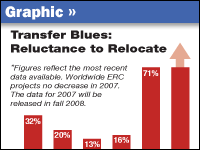 Courtesy of Nannette and Paul Dillon.
The Dillon children of Toledo, Ohio, have a new wrinkle in their nightly bedtime rituals. Sometime in the midst of washing up, putting on pajamas, eating a snack and reading a bedtime story, 9-year-old Makayla, 8-year-old Keegan, 6-year-old Brody and 4-year-old Riley will get a very important phone call.
Their father, Paul Dillon, lives and works in Akron, Ohio, and relies on the phone to stay in touch with his family.
"Oh, it's huge! They love when their dad calls, or whenever they get him. And sometimes I will take them to school, they get to call him on the cell phone," says Nannette Dillon, their mother. "That's how we know each other now."
A little more than a year ago, Paul Dillon lost his management job with a company just outside of Detroit. After eight months of searching, he landed a new job that was actually a step up, but it was much farther from home: Akron is about 140 miles from Toledo, too far to commute each day.
Splitting Up to Make Ends Meet
The Dillons are one of a growing number of families across the country that are splitting up temporarily because they can't sell their homes. Their situation illustrates how the national housing downturn is forcing couples and families to make tough decisions about accepting job transfers or new opportunities.
The spike in foreclosures nationwide has put a glut of homes on the market. The number of unsold homes is higher now than anytime in the past 18 years, according to the National Association of Realtors. Home prices are also dropping, and credit is tight. It's not just that people can't sell their home for what they think it is worth or what they have invested in it. In some cases, there just aren't any buyers.
Growing evidence suggests that fewer people are making work-related moves because of the housing market. No agency tracks how many people move specifically for jobs each year, but Census Bureau figures show that the number of people moving from one state to another for any reason dropped 27 percent last year, after three straight years of double-digit increases.
ERC Worldwide, a workforce mobility association, annually surveys its members, which include companies that frequently relocate and transfer employees. It found members reporting a 50 percent increase over the past four years in the number of employees in commuter marriages, where spouses live in different cities. And it reports that in 2006, more employees were reluctant to relocate: "More than 70 percent of the respondents reported 'slowed real estate appreciation/depressed housing market at the old location' as the reason their employees are averse to moving."
This is a dramatic shift from 2005, when only 16 percent of the respondents mentioned the housing market as a reason for reluctance.
Bye, Bye Transfers
Many companies are reducing the number of employees they transfer and relocate. ERC's Sandy Taraszki says those that do often try to ease the burden by offering employees marketing and home-staging help, incentives, more time and money to move and even guaranteed buyout programs.
"Essentially what they're saying is that if your house doesn't sell within this certain amount of time, we will pay you this amount of money to purchase your home so you can move on," Taraszki says.
But that can backfire, too. By January, the Chicago-area moving and relocation services firm Sirva Inc. had accumulated more than 1,200 unsold homes purchased from its clients. That huge inventory is part of what led Sirva to file for bankruptcy in February.
Scant Offers
Still, in this tight job market, Paul and Nannette Dillon felt the job in supply-chain management was too good to pass up, so Paul moved to Akron in November. Nannette says she immediately put the Toledo house on the market. In the back of her mind, she thought she and the kids would be able to move to Akron over Christmas break. She quickly found out the real estate market in northwest Ohio is colder than the January winds off Lake Erie.
"When we put the house on the market in November, there was nothing. December brought very few [potential buyers]. January brought a few more trickles through," she says.
In the almost six months that the Dillons' four-bedroom, two-and-a-half-bath home has been on the market, a little more than a dozen prospective buyers have been through. Nannette says it has a big yard and is in a very popular area, with great parks and excellent schools, but the neighborhood has a glut of houses for sale — she estimates between 40 and 50.
Nannette says she thinks they've priced it right — at $239,900. She says that's $30,000 less than what similar homes in the area were selling for three or four years ago, and less than what they've invested in fixing it up over the past six years.
"We can't break even at this point," she says, "and that's OK, but I don't want to lose my shirt, either."
Despite a few nibbles, the Dillons have had no offers on their house so far. "'I need to sell my house to buy a house.' That's what we hear" from buyers, Nannette says. And so they are stuck.
But they are not alone. Even experts on the economy aren't immune.
"Yeah, my house price declined," says Dana Johnson, chief economist for Comerica Bank, who says he lost money on his house when he was transferred from the Detroit area to Dallas last year. "I lived in Ann Arbor for several years, and my house price declined over the two-and-a-half years I lived there."
"We see a huge overhang in inventory of unsold houses nationally," Johnson adds. Part of the problem, he says, is that "many people still haven't fully adjusted to the realities of the current housing market." They put their house on the market — "just not at a price that's going to sell."
Midwestern Blues
The problem is compounded in places like southeast Michigan and the adjacent Toledo area of Ohio, which have been bleeding manufacturing jobs and losing population. The region has an even greater excess of homes on the market, with fewer buyers.
Johnson says that means many people who want to escape the area for better opportunities elsewhere often cannot.
"I bet there's a fair number of people who took buyouts from the auto companies who would like to relocate, but are recognizing they'd have to take such a big hit on the value of their house that they're going to hang tight and wait for the housing market to stabilize," he says.
Staging Full-Time
Nannette Dillon says preparing her home for sale has almost become a full-time job, even though they've listed with a real estate agent.
"What do I do to make my house different? I put out food. I put out usually some sort of cookies, deserts, snack, fresh fruit, fresh brewed coffee, water," Dillon says. She adds a snack plate for kids with little cookies, juice boxes and goldfish crackers.
"It's the little things that I think will help people remember it," Dillon adds. "We made up business cards that have the house printed on them with the MLS number, all the house information on them. My fliers are all on bright orange paper, because if you're driving around and picking up 30 of them, you're going to remember the one that is the bright orange paper."
Enlisting the Kids
The biggest challenge with four children under the age of 10 is keeping the house clean. "We're a lot neater than we used to be," Nannette says.
But she admits that she has special towels for showing the house that no one in the family is allowed to use, and she closes off some rooms so the kids can't mess them up once they've been cleaned.
And she has the kids help. "We have to clean up after we have friends over," Brody Dillon says. Makayla adds: "We had a snow day and all we did was clean."
The hard work hasn't paid off yet. But regardless of whether they sell their home, Nannette Dillon says she and her kids will soon move from Toledo to Akron.
It will probably mean living in a smaller house or even an apartment.
"It's not all about the money," she says. "You need to be happy. And for us, we're making the decision that our family needs to be together."