States React to Court's Lethal Injection Ruling
Reaction to the Ruling
What does the Supreme Court's decision mean to states with the death penalty? Learn more.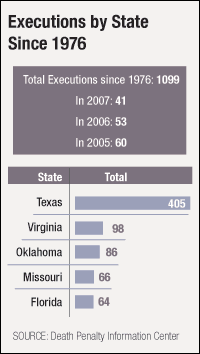 The national moratorium on the death penalty ended this week with a landmark Supreme Court decision. The justices ruled that Kentucky's form of lethal injection is constitutional. Almost all the states that execute people use injection to do it.
In theory, the decision means executions can now go forward for the first time since September.
In practice, the outlook is very different from state to state.
Forging Ahead
There is no state that executes more people than Texas. On average, the state puts an inmate to death every other week. Lately, according to prison spokeswoman Michelle Lyons, it has been really quiet.
"Now that the ruling's been issued," Lyons said, "the district court could schedule [executions] for any time."
And there are many other states like Texas.
Before the sun went down on the Supreme Court ruling, officials in several states — including Mississippi, Oklahoma, Virginia and Georgia — took steps to move ahead on executions.
Georgia State University Law Professor Anne Emanuel chaired a recent American Bar Association project on the death penalty in her state.
"We had two inmates on death row whose execution had been stayed only because they were challenging the method of lethal injection," Emanuel says, "and the state attorney general has already moved to lift those stays."
State officials say although Georgia has 107 people on death row, only four have exhausted their legal claims and could be scheduled for execution.
In Florida, no one has been executed since a lethal injection went wrong in 2006.
Sterling Ivy, spokesman for Florida Gov. Charlie Crist, says "the inmate did not pass away for 16 minutes after the execution had started."
Florida halted all of its executions after the incident. It sent a panel to evaluate the three-drug combination. The panel's conclusion was to space the drugs out, so each has time to work before the next is given.
Florida has 388 people on death row, and Ivy says the state is now ready to forge ahead.
"This ruling this week really validates our process in Florida," he said. "What we believe is that this allows us to begin signing death warrants in other cases that may be ready."
Other Legal Issues
Several other states have been stuck in legal quagmires since before the Kentucky case even made it to the Supreme Court.
California, for example, has the largest death row of any state in the nation, with 669 people. According to Seth Unger of the California Department of Corrections and Rehabilitation, "the leading cause of death is old age" on death row.
It's been two years since California has executed an inmate. A judge there ruled the execution process was not making the prisoner fully unconscious, and the state has been overhauling the system ever since.
California can resume executions as soon as a state judge signs off on the new facility and protocols, but that may not happen right away.
In North Carolina, where 166 people are on death row, executions are on hold for reasons wholly unrelated to the Supreme Court.
The state's medical board decided that doctors cannot ethically participate in executions. North Carolina state law says a doctor has to be involved. That standoff has been going on for almost a year and does not appear close to a resolution.
Illinois, too, has put executions on hold. The governor announced a moratorium after a series of inmates on death row were found to have been wrongfully convicted. The Supreme Court ruling will have no impact there.
Many states are also expecting challenges from defense lawyers.
The Supreme Court said Kentucky's death penalty system has enough safeguards to make sure lethal drugs are administered properly. For example, there are certain training requirements. But protocols vary widely from state to state. Defense lawyers in many states plan to argue that their systems don't meet Kentucky's standard.
Ohio prosecutors don't expect challenges from defense attorneys to make much of a difference. Zack Swisher, assistant chief of the criminal division at the Ohio attorney general's office, says "there's not going to be really a stay unless the attorneys can make an argument that there's a substantial difference between Ohio and Kentucky."
Ohio has 186 people on death row.
Many states with the death penalty don't actually execute people — at least not routinely.
Pennsylvania, for example, has the fourth highest number of death row inmates in the country, 228, but the state hasn't killed anyone in eight years.
For a dozen similar states, the Supreme Court's ruling received a collective shrug.
In Colorado, one man is on death row. An officer there said, "This decision has no immediate impact on us."