Two Novel Approaches to Coming of Age
Two Novel Approaches to Coming of Age
The coming-of-age story isn't new, but a couple of new novels based on this theme stand out — mostly for good reasons.
First is Susan Gregg Gilmore's light-as-air novel, Looking for Salvation at the Dairy Queen. This Georgia story starts so light I almost had to twist my own arm to keep reading. Our narrator, Catherine Grace Cline, is a motherless preacher's daughter with a dutiful Baptist boyfriend, and a lot of illusions.
More than anything, Catherine Grace wants to leave tiny Ringgold, Georgia. Ringgold is the type of sleepy town where folks don't do much except go to church and grow tomatoes, and a girl's biggest thrill is walking to the Dairy Queen for a dilly bar.
Catherine Grace wants to quit town so bad that she'd almost curse — or tear up her recipe for strawberry jam. Even after she succeeds in escaping from Ringgold and landing a job in Atlanta, the book still reads like meringue (when you really want pie). But, darn, as our heroine might say, I'm glad I kept going, because before it ends, the preacher's daughter makes a sad return home, and all of those illusions fall away, revealing everyone — from Daddy to her old boyfriend — in a different light.
The main character in our second coming-of-age novel couldn't be more different. The Flowers, by Dagoberto Gilb, centers on a teenage Chicano boy named Sonny Bravo, who is living with his mother and her new gringo contractor husband in a sweltering, two-bedroom apartment somewhere out west.
The apartment building also happens to be home to a lot of folks who don't smell so sweet. We meet a racist construction worker, a dodgy car salesman, the lusty wife of a drug dealer, and a young girl caring for her infant brother who declares that she sometimes hates being Mexican.
Sonny takes to stealing money and fooling around with the dealer's wife, but deep down he really wants the girl.
"She was so chula," he says. "Her eyes, the white of them, the black of them. Her eyelashes. Her eyebrows. Her nose. Her cheeks. Her lips. Her chin. Her neck. Each strand of her hair in place as alive as the ones that floated in the breeze while I stood at the open door, wishing I knew how to make her kiss."
Along with Sonny's daydreams come lessons about life, and though the rip-and-run of city life is quite different from the ice cream and tomatoes of Ringgold, Ga., through it all, there is a taste of something sweet: the faint hope of love in the offing, even as sirens scream out above an angry city.
Excerpt: 'Looking for Salvation at the Dairy Queen'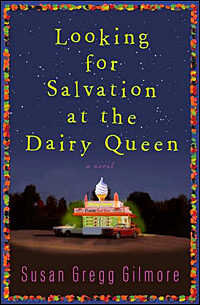 Chapter One: In the Beginning
My daddy always said that if the good Lord can take the time to care for something as small as a baby sparrow nesting in a tree, then surely He could take the time to listen to a little girl in Ringgold, Georgia. So every night before I went to bed I got down on my knees and begged the Lord to find me a way out of this town. And every morning, I woke up in the same old place.
It was a place that I, Catherine Grace Cline, never wanted to call home, even though I was born and raised here. It was a place where everybody knew everything about you, down to the color of underwear your mama bought you at the Dollar General Store. It was a place that just never felt right to me, like a sweater that fits too tight under your arms. It was a place where girls like me traded their dreams for a boy with a couple of acres of land and a wood-framed house with a new electric stove. It was a place I always planned on leaving.
When I was no more than nine years old, a tornado tore right close to my house. I remember yelling at my little sister to run and hide in the basement. "Martha Ann," I warned her, "if that twister hits this town, nobody's even going to notice it's gone."
She started crying for fear she was going to be swept up in the clouds and carried away, and nobody, not even our daddy, would be able to find her. Turned out the only thing of any importance swept up in the sky that day was Mr. Naylor's old hound dog. People said that Buster Black flew some fifteen miles, those long lonesome ears of his flapping like wings, before landing in the middle of some cornfield over in the next county.
Mr. Naylor walked for miles looking for that dad-gum dog till finally my daddy and the sheriff had to go pick him up. And just when that poor man finished planting a wooden cross by Buster's little house, darn it, if that four-legged fool didn't come limping back home, wagging his tail and acting like he'd found the Promised Land. Mr. Naylor was crying, praising the Lord, holding Buster Black in his arms. The local newspaper ran a color picture of them both right on the front page, like that dog was some kind of prodigal son.
"You know, Martha Ann," I told her after reading about Buster's triumphant return, "a tornado like that just might be our ticket out of here, but unlike that stupid old hound dog, we are not going to limp back home."
My daddy said I was a little girl with a big imagination. Maybe. Or maybe I was a patient girl with a big dream, or a despairing girl waiting for her divine deliverance. But either way, I was going to hitch a ride out of Ringgold, whether it was on a fiery twister ripping a path through the Georgia sky or on a Greyhound bus rolling its way down Interstate 75.
Truth be told, I never even liked the name Ringgold. I mean, there's nothing in these green rolling hills that even faintly resembles a ring of gold, a ring of anything for that matter. And believe me, me and Martha Ann looked, somehow figuring that if we could find a ring of trees or ancient rocks, then just maybe our living here would have some kind of meaning. But after years of searching, the best I could figure was that it was just these darn hills that I had stared at every morning from my bedroom window that formed the ring, the ring that had kept me hostage for the first eighteen years of my life.
Nobody much ever bothers to visit this town except the truckers who stop to fill their fuel tanks because they can get some of the cheapest gas in the state here and Mrs. Gloria Jean Graves's second cousin, who has come up from Birmingham every year for the Thanksgiving holiday since before I was born. She always said it was refreshing to get away from the big city for a few days.
One time the governor came by for about twenty-five minutes to cut a ribbon at the new elementary-school library. Everybody in town came out to see him. Daddy made me wear a dress and tie my hair back in a ribbon, just like I was going to church. Six days a week my daddy didn't care too much how I looked, but on Sunday mornings there was no negotiating the dress code. My sister and I wore our very best dresses with a fresh pair of cotton panties underneath, out of respect for the Lord, Daddy said.
I really didn't think Jesus cared what I wore to Cedar Grove Baptist Church, or to see the governor for that matter, considering the fact that in every picture I ever saw of the King of Kings, He was wearing sandals and bundled up in nothing more than a big, baggy robe. But I figured this governor must be the most important person I was ever going to meet if Daddy was making me wear my navy blue Sunday dress with the white lacy collar and my patent-leather Mary Janes.
Martha Ann pitched such a fit about wearing her Sunday clothes that Daddy ended up leaving her at home with a neighbor. My little sister is a couple of years younger than I am, but she has always been a couple of inches taller, my guess from the time she came into this world. She has thick, dark brown hair and deep brown eyes like our mama. I have blue eyes like my daddy and straight brown hair that looks more like the color of a field mouse.
Martha Ann was a pretty baby and a pretty girl. Everything on her face just fits together so perfectly. When we were little, people said we looked just like twins for no better reason than we might have been wearing the same color shirt. You had to wonder if they were truly looking at us. But one thing was for certain, Martha Ann hated putting on her Sunday clothes even more than I did. She'd have much rather been in the library picking out a new book to read than waiting to look at some strange man cut a ribbon.
I told her that if she didn't stop all that stomping and snorting, she was going to get left behind. And sure enough, she did. She had to spend the entire afternoon with Ida Belle Fletcher shucking eighty-four ears of corn for Wednesday-night supper over at the church.
Ida Belle said she cooked for the Lord, but all I knew was that she smelled like an unsavory combination of leftover bacon grease and Palmolive soap. She kept her big, round tummy covered with a tattered, old apron permanently stained with the meals of another day. The only time I saw her without that apron was when she was sitting in church, and then she kept it folded in her pocketbook.
My patent-leather shoe rubbed a blister on my big toe, but it was worth it. The governor turned out to be, if nothing else, the most handsome-looking man I'd ever seen. He wore a dark navy suit and a crisp white shirt that must have been starched so stiff, it could've stood up on its own. A red-and-blue-striped tie was pulled around his neck, and the tip of a white handkerchief was peeking out of his suit pocket. I had never seen a man dressed so fancy. He was in Ringgold for only a few minutes, and then he jumped in the back of a long, black car and sped off down Highway 151. I wanted to go with him so bad that for weeks after that, when I went to bed at night, I got down on my knees and begged the Lord to make me the governor's daughter.
But He didn't bother to answer that prayer either, not that I really thought that He would. God put me here for a reason, Daddy kept telling me; I just hadn't figured it out yet.
Now I know my father was a certified man of God, but at a fairly young age, I decided that when it came to my destiny, he did not know what he was talking about. He certainly did not understand that there was nothing for me here in Ringgold, Georgia. Sometimes I wondered if he had noticed that this town had only one red light, one part-time sheriff, and one post office, which was nothing more than a gray metal trailer perched on a bunch of cinder blocks in the back of the Shop Rite parking lot.
There was one losing high-school football team and one diner, which has been serving pork chops on Thursdays since 1962. There was one fire station, but it burned down five or six years ago when the entire fire department, which amounted to the sum total of Edward and Lankford Bostleman, were spending the night at their aunt's house over in LaFayette.
Excerpted from Looking for Salvation at the Dairy Queen by Susan Gregg Gilmore. Copyright © 2008 by Susan Gregg Gilmore. Excerpted by permission of Shaye Areheart Books, a division of Random House, Inc. All rights reserved. No part of this excerpt may be reproduced or reprinted without permission in writing from the publisher.
Excerpt: 'The Flowers'
Note: There is language in this excerpt that some readers may find offensive.
Not that many years ago I would go to a house in the neighborhood, not always someone's I knew, one I'd never been inside of, where I'd only have to maybe hop a fence, nothing complicated, and from the backyard I'd crawl through an open window. People always latch the ones in the front but never in the back, and especially not the bathroom one, you know, and it wasn't so small I couldn't get in quick. I could've stole lots of shit in those houses, except that's not what I was going in there for. I wasn't like that. Maybe I don't know exactly what I was doing except I was doing it. I never took nothing, nothing much if I did, because I didn't want to. I was more watching how the people lived, imagining how it would be in their house. I stared at the framed pictures they had of their family. Husbands in suits and wives with necklaces and old grandparents from the other times way before. Unsmiling dudes, glaring at you, in tilted military hats and coats with medals and ribbons. Full-body shots of happy daughters in white veils and lacy crunchy wedding dresses that poured all over into the bottom of the picture. Shocked little babies on blue backgrounds squinting like What's going on here, what's all this light shit? Dopey-dumb I'm-so- proud high schoolers graduating and making a face like they were department store managers. If I felt like it, if I had the mood, I sprawled out on their couches or lay down on their beds. Go, How would I be if I lived here? I'd let that come into me, I'd let my mind go to the show it liked. Maybe you could say I would go off to my own world. To me it wasn't mine, nothing like mine, because it would go to black. I loved that color. It was like when the eyes aren't open but try to see. What would finally come were colors and lines busting through, flying out and off and cutting in, crazy fires and sparks, and it'd come out speeding, and I'd be like a doggie out the window, those lane dividers whiffing by on the freeway straight below an open car window. I'd start to see shapes floating and straightening and wiggling and see it like it was a music that didn't make sound but was making a story. Not a regular story and I don't mean one you would hear some loco nut tell you, one that didn't have nothing to do with people or places you've ever seen. It's that I can't describe it better. Just, I have to watch, I have to listen. It was always good too. Say like when you hear music and it gets inside your brain and goes and goes, sticking there. And so I guess it got in mine like that. I listened and watched until I stopped getting too stupid because, you know, I had to leave and get out of there fast. And once I got up, shook it off and remembered where I really was, even if I opened their refrigerator, when I looked inside, wasn't like I didn't think of eating or drinking, I didn't take even a soda, thirsty as I might have been. I didn't want them to know I'd been there. Though I kind of opened the fridge door because maybe I do think of—well, like orange juice. It's that I like orange juice. So maybe when there was some orange juice I might have taken a gulp or two. But see, even then, nobody'd really know. One time I was in this one house, and I was looking inside a drawer in this girl's bedroom. I knew about her because she was this dude's older sister, and she was in junior college. It was that there were a bunch of bras, and I picked them up and looked at them, touched them because I was holding them. Wasn't like I never seen my mom's and my sister's, it wasn't like I didn't know the difference. And it was the only time there was something like that, swear, and I did stop and yeah I still got jumpy about it and felt like it was fucked up, real bad of me and afterward I only snuck into one more house. Like I said, I didn't know what I was doing it for, and it wasn't like I liked doing it.
I heard this shit because she was on the phone and I listened to her. It was her sound, a white ripply line right into the black. Not above. Black was everywhere and the white came from the front, above, maybe below. I don't know. I think it was Nely she was talking to, probably. That was who she talked to. That's who I thought. My mom was going like What can he do? and So what he screamed. Listen to me, she said. No, listen to me. No, listen, listen. And I listened to what I could. I saw the white ribbon curling and swirling. Men. She kind of laughed. He will never know, she said. Ay, ay, no! She laughed. She said, He is a man, and I didn't ask for that. She was laughing but not laughing happy and I'm listening and I'm like going to that somewhere else inside my head, all by myself.
I got worried I was getting sent to juvie when I did have to go to the court because of nothing, for so much less. That was this time when the police scraped the tires of their black-and-white against the curb ahead of me. I was walking by myself. At first I didn't believe it was about me, but that policeman kept wanting to know what I was doing. I was not wanting to say. Okay, maybe, even really I was scared like anybody and I didn't want to show it but probably I did. How was I supposed to answer because what'd I do? I was just walking, you know? Maybe a couple days earlier I pocketed a chocolate bar and I folded a baby comic book down my pants. It wasn't like the first time I did that, and when I did get caught this one and only time, when a drugstore man yelled something, I ran, and I never made it back to that store again and that was the worst of it and that already was back then, and no way anyone could still care or remember. So the passenger policeman who came up to me first, he goes, So what're you doing? and I'm like, Walking on the street, mister, which is when the driver policeman comes around to stand next to his partner, and he frowns at me too, like I'm stinky. Until a second or so later, he gets this expression on his face. His eyes go a little up to the sky, and his body gets kind of stiff, and he blows this fat old pedo. And so, like anybody would, I laughed. I did because it was funny, right? And so yeah I'm all guilty of laughing. But that's when they both get all blowed up mad—I'm disrespectful, and I got attitude, and who did I think I am? They got so close into my face I thought they were gonna kick the crap outta me. And so that's why I had to go to the juvie court, to hear a commercial about disrespecting the police and authority and to hear about all the potential trouble I was going to be in if I didn't go right and goodboy, straighten out and care about school and my education and get good grades. My mom had to be there with me too. She had to take off from work and listen and act like she was all worked up about me too, which she wasn't, I knew it, because I heard her talking all the time on the phone about what she was up with, but the lady judge wasn't going to notice nothing. Once I told my mom how the police dude threw a fart, she cracked up just like me, because it was funny, right? But I knew not to say nothing to a judge about what really happened. I'm not stupid. That judge, she wouldn't have laughed, and then I don't think my mom would've laughed no more, and she never laughed as much as me. She was tired, and she didn't like to waste time because she was already way too busy.
Books Featured In This Story
Looking for Salvation at the Dairy Queen
A Novel
Hardcover, 296 pages |
purchase
Buy Featured Book
Title

Looking for Salvation at the Dairy Queen

Subtitle

A Novel

Author

Susan Gregg Gilmore
Your purchase helps support NPR programming. How?
Purchase Featured Book
Buy Featured Book
Title

The Flowers

Author

Dagoberto Gilb
Your purchase helps support NPR programming. How?