'Iron Man': Suddenly, Snark Is A Super-Power
Zade Rosenthal/Paramount Pictures
Director: Jon Favreau
Genre: Action
Running Time: 126 minutes
The snark in most superhero movies resides mostly with the villains -- Spidey slings more webs than sarcasm; Superman would rather land punches than punchlines.
But with Robert Downey Jr. wearing Iron Man's armor, there was never any doubt that this new Marvel franchise would make its snarkiness central. No one throws away a line with more style than Downey -- not even Daniel Craig, the latest James Bond model -- and the dozen or so screenwriters it took to turn this comic book story into a storyline have given him plenty to throw away as Tony Stark, irrepressibly irresponsible gazillionaire munitions-maker.
Director Jon Favreau blows up a lot of stuff right at the top, then takes his time establishing characters -- Terrence Howard as Stark's comparatively down-to-earth best bud, Gwyneth Paltrow as his lovesick secretary, Jeff Bridges as his nemesis -- and more time getting the hero into that metal suit.
Downey proves hilariously limber in the Blake Edwards–ish slapstick with which he finally learns to fly, but the plot proves less limber, especially in a routine wrap-up where a pair of bulging metalmen have at each other digitally.
Early on, though, when bad boy Stark is trying to rehabilitate himself and Downey's bad-boy rep is dovetailing neatly, the movie zips along. If every superhero franchise had a Robert Downey Jr., the genre might actually be watchable again.
Elementally Flawed 'Iron Man' Not Striking Sparks
Elementally Flawed 'Iron Man' Not Striking Sparks
Zade Rosenthal/Paramount Pictures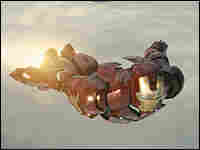 Industrial Light and Magic/Paramount Pictures
It's May, and the season of summer movies is upon us, and this year the march of the would-be blockbusters begins with the debut of Marvel Studios' much-ballyhooed Iron Man.
Wait, "Iron Man"? This is the name for a superhero? Shouldn't the handle for a fighter for truth and justice be something sleek and modern, like "Titanium Man"? Or even "Uranium Al"? Isn't "Iron Man" a little old-school for today's computer-generated movie franchise world?
Don't tell that to the folks at super-profitable Marvel Studios. So here comes Iron Man, following gamely in the footsteps of Spider-Man, X-Men, Fantastic Four, The Incredible Hulk and Daredevil.
Robert Downey Jr. gives an engaging performance as billionaire playboy Tony Stark, a second-generation inventor and armaments manufacturer. He's the kind of guy who divides his time between womanizing and accepting accolades for being a visionary genius and American patriot.
Iron Man also offers some slick verbal sparring between Stark and his loyal assistant Pepper Potts — yes, that really is her name. (She's played by Gwyneth Paltrow.)
But though its hero is named after an element, this movie is an alloy, a combination of disconnected components. Two different writing teams worked on separate but equal versions of the script, and that "One from Column A, one from Column B" approach just doesn't work.
There are simply too many Tony Starks. Besides the glib playboy, there's the dour captive of jihadists, the obsessed inventor, the angry Human Rights Watch monitor on steroids, the unbeatable superhero.
With all these Tonys piling up, Iron Man gets so overloaded that it threatens to become The Man Who Fell to Earth — heavily.