Loss Highlights Potential Weaknesses for Obama
Loss Highlights Potential Weaknesses for Obama
Emmanuel Dunand/AFP/Getty Images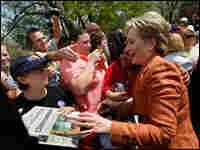 Despite New York Sen. Hillary Clinton's win in Tuesday's Pennsylvania primary, Illinois Sen. Barack Obama remains the front-runner for the Democratic nomination. In the remaining primaries, Clinton has few opportunities to overtake him. Still, as Obama loses one big state after another, his potential weaknesses as a general-election candidate are being exposed.
Obama lost Pennsylvania the same way he lost Ohio: by losing big to Clinton among white Catholics, white union members and white voters without college degrees. Those losses might not prevent him from winning the nomination, but Peter Brown of the independent Quinnipiac University poll says it certainly will matter in November, particularly in the big swing states that Democrats need to win.
"What Ohio and Pennsylvania have shown is that he has a serious problem with white, working-class Democrats," Brown says. "If he has a serious problem with white, working-class Democrats, how do you think he is going to do with white, working-class independents and white, working-class soft Republicans?"
Missing a Key Constituency
Some Democrats worry that as Obama inches closer to the 2,025 delegates he needs to win the nomination, his electoral coalition is looking hollowed out — missing the "lunch bucket" Democrats who are the foundation of the party's hopes for the White House.
But Democratic strategist Steve McMahon isn't worried at all.
"The notion that Democrats won't come home — to Barack Obama or to Hillary Clinton — is, I think, a notion that's just not been proven true over time," he says. "The Republicans who supposedly wouldn't come home for John McCain are coming home right now. That'll happen on the Democratic side, too."
Strategist Anticipates Party Unity
Another Democratic strategist, Peter Fenn, is worried about Obama's limited appeal to blue-collar voters, but he thinks that problem can be solved when and if the party unites behind Obama.
"I think there's no question that Barack Obama is going to have to appeal to those folks," Fenn says. "The key now, I think, is for the Democrats not to take this race three, four, five more months into a basic circular firing squad. If that happens, and it gets more petty and more nasty and more bitter, then it is going to be difficult for either of the candidates to emerge with unity."
Right now, the Democratic race is so divisive that unity looks elusive. Exit polls in Pennsylvania show that 43 percent of Clinton's voters would stay home or vote for McCain, the likely Republican nominee, if Obama were the Democratic nominee, and 29 percent of Obama's voters would do the same if Clinton were the nominee.
Democratic consultant Tad Devine thinks Obama could compensate for losing a certain number of white, working-class votes because he has expanded the electorate.
"Sure, he's got work to do," Devine says, "but ... he's demonstrating a lot of strength in a lot of areas. I mean, first of all, he's bringing new people into the process — we've got unprecedented registration. Secondly, the turnout is incredible in these primaries."
Race Remains a Factor
But there's another potential problem for Obama in Tuesday's exit polls: One in five white voters said race was a factor, and three in five white voters chose Clinton.
"A lot of voters in a lot of these states have never voted for an African-American candidate before," Devine says. "This is simply a new experience for them, and many of them are going to have to confront this in the course of the campaign. I think right now, Hillary Clinton for them is sort of either a way station, you know, toward Obama or a signal that they're not quite ready to make that step. I don't think anybody knows the answer to that yet."
That answer won't be apparent until after the party is able to unite behind a nominee — and that won't happen until one of these two heavyweight contenders figures out how to knock the other out of the race.
Although Clinton was hoping her solid win in Pennsylvania would convince superdelegates to at least stay neutral until the end of the primaries in June, Obama picked up endorsements on Wednesday from Gov. Brad Henry of Oklahoma — a state Clinton won — and Audra Ostergard, a superdelegate from Nebraska, where Obama won. Clinton also added a superdelegate to her column: Rep. John Tanner of Tennessee.