Cambridge Geek Fest Celebrates Internet Memes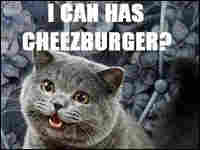 BPP producer Ian Chillag is always on the hunt for the latest and greatest on the Web. That's why he couldn't resist a conference in Cambridge, Mass., on Friday, when the LOL cats — of "I Can Has Cheezburger?" fame — rub shoulders with the "Stuff White People Like" blogger.
You know you're a bigwig in the nerd world when you get a "con." Trekkies have cons. Comic fans have cons. And on Friday, Web dorks go big when the doors open on the first ever ROFLCon — or Rolling on the Floor Laughing Conference. It's hosted by Harvard student and BPP Internet mischief expert Tim Hwong.
"He invited the entire Internet in its human form to MIT," says Chillag, noting that even the Mozilla Firefox is slated to appear. "He's an amazing speller," Chillag says.
Stay tuned to see whether Rick Astley rolls in.
On our blog, Ian Chillag covers ROFL Con 25 hours a day.