Professor: Sean Bell Slaying Part of National Trend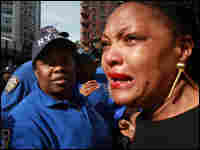 Three undercover detectives were found not guilty Friday in the 2006 police shooting of Sean Bell, a New York case that made national headlines.
Delores Jones-Brown of the John Jay College of Criminal Justice says the case has drawn attention because it's part of a larger pattern of police shooting unarmed suspects.
Jones-Brown, a former prosecutor, directs the college's Center on Race, Crime and Justice. She cites a string of acquittals of police officers around the nation who killed civilians while on duty. In the Bell case, detectives fired 50 bullets at Bell and his friends outside a strip club in the predawn hours. Bell, who was unarmed, was to be married later that day.
The professor says the sheer number of bullets matters, in this case and in past ones, like the police killing of Amadou Diallo in New York in 1999. The unarmed Diallo died in his apartment doorway after officers fired 41 bullets at him. "It takes place in residential locations where other people are put at risk by the police behavior," Jones-Brown says.
National statistics show that police shootings are on the decline. That means little to the loved ones of those killed when things go wrong. "When you're the family members of the victims, you could care less what's going on in other parts of the state or in other parts of the country," Jones-Brown says. "And on an individual basis, a case such as this one — where you've got at least one officer shooting 31 times, his shooting alone exceeds the average of the department by almost 10 times."
The bullets fired in the Bell case amounted to nearly 10 percent of those fired by the entire New York Police Department that year.