Rules Let Corporate Cash Fund Party Conventions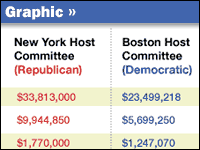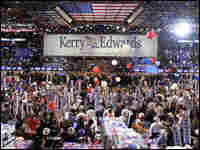 Paul J. Richards/AFP/Getty Images
What About the Libertarians?
Paul J. Richards/AFP/Getty Images
Think back to the 2004 presidential nominating conventions — the point when the candidates delivered their acceptance speeches — and then freeze that picture in your mind. Almost nothing there was paid for by the parties. Not the podium. Not the rent for the convention hall. Not the air conditioning or sound system. Not even the balloons and confetti.
Most of the money was raised outside the campaign finance system with unlimited contributions from corporations, rich individuals and unions. That's because the Internal Revenue Service and the Federal Election Commission, in effect, say paying for a political convention is not a political act.
For the Republicans, just about everything was paid for by a charity called the New York City Host Committee 2004. The Democrats in Boston had a similar charity and a chamber-of-commerce-type organization.
While the parties didn't pay for the convention, they did determine how the money was spent.
Skirting Bans on Corporate Cash
The Bipartisan Campaign Reform Act of 2002, better known as McCain-Feingold, bars parties from taking corporate money. But the host committees for their conventions still can.
These committees are independent groups with the stated goal of promoting the host city. In exchange for the parties choosing Minneapolis and Denver for their conventions, the host committees agreed to raise more than $50 million to pay for much of the conventions' price tags. Most of it will come in large donations from businesses, wealthy individuals and labor groups.
"It is a loophole," says Steve Weissman, associate director for policy at the Campaign Finance Institute. "It's a way that unlimited contributions get into the federal system — back into the political parties — after a law was passed that said, 'Well, we're trying to get rid of that.'"
While charities are barred from intervening in elections, the IRS doesn't consider paying for a convention to be a form of intervention.
"The IRS uses the same criteria to determine tax-exempt status, regardless of whether the organization is vying for the Olympics, a political convention or some other special event," says IRS spokeswoman Nancy Mathis.
Relieving the 'Government's Burden'
Such competitions often require cities to pay for part of the event. If the city agrees, that becomes something the IRS calls a "burden of government." A charity can be formed to relieve such a burden.
"This lessening-the-burden-on-local-government rationale is quite threadbare," says Francis Hill, a law professor at the University of Miami.
She believes paying for overtime for police or garbage collectors is a reasonable burden for a local government to take on, but funding an event that highlights one candidate running for president is not.
"The host committees are, I believe, conduits for the financing of a political class of professional politicians who want to have a big, showy convention," Hill says.
The way in which host committees raise money bolsters her argument. An early draft of the Minneapolis host committee's donor packet offered those giving more than $5 million a golf outing and dinner with Republican leadership.
The golf outing and dinner were removed from later editions of the packet. A spokeswoman for the committee said there were enough activities scheduled already.
The host committee in Denver reportedly offered similar access to donors, but a spokesman for the committee said it would not "engage" in this story.
"Congress could end this — simply by passing a law. But they've shown no will to do so," Weissman says.
The Federal Election Commission also has blessed this method for funding political conventions. Over the years, it has relaxed the rules on who can give to host committees. Originally, only businesses based in the host city could contribute. In 1994, eligibility was extended to firms with branch offices there; by 2003, anyone could contribute.
Another issue is that the major parties will get about $17 million this year in federal grants for their conventions. This public funding was a Watergate-era reform: Having large companies pay for conventions looked like a corrupting influence on the parties.
"They only get the public money on the grounds that they're foregoing the private money. But, as we've seen, they are getting the private money," Weissman says.
However, watchdog groups appear at a loss for how to respond. They could sue to force the federal agencies to change how laws are interpreted, but that's difficult and expensive. And they say other campaign finance issues are higher on their priority lists.
Libertarians Let Contractors Plan Nominating Bash
Web Resources
When it comes to funding their presidential nominating conventions — as with many things — Libertarians carve their own path.
Unlike Republicans and Democrats, who use host committees to raise most of the money for their conventions, Libertarians outsource their entire affair to a private company. Both methods successfully skirt the soft-money bans to parties contained in the 2002 McCain-Feingold act, which revamped campaign finance laws.
Once the Libertarian Party chooses a contractor, it has no control over its own convention — the order of events, the decorations, the speakers. All those decisions are left to the contractor.
"We show up ... conduct our business, choose our presidential candidates or officers, change our platform and bylaws, and go home and call it a day," says Shane Cory, executive director of the Libertarian National Committee.
The contractor takes care of all the finances. Money collected from delegates and from sponsors isn't subject to soft-money limits ($28,500 per donor) and bans (on any money from corporations and unions).
The Libertarians will hold their convention May 22-26 at the Sheraton in downtown Denver. This year's contractor is Denver LP Con 2008, owned by two sisters, Michele Poague and Bette Rose Ryan.
A month before their convention, the two were in Poague's suburban Denver garage wielding 2-by-4s, a circular saw and a cordless drill. With help from a few volunteers, they built a box about 18 inches high and just large enough — when turned bottom-side up — to hold two adults standing close together.
"In traditional politics, people used to stand in the court centers and get up on a soapbox and talk," Poague says. "And so we're going to build a soapbox that will sit in the middle of the exhibit hall."
Poague and Ryan are longtime Libertarians, and they're not above taking a few jabs at those organizing the Republican and Democratic gatherings.
"I'm going to put on a convention for 1,000 people that's probably going to cost less than $200,000 — including security," Ryan says.
After she's told that the major parties will spend something north of $120 million for their conventions, Ryan's eyes widen: "I could put on ahhhh ... one big convention for $1 million."
One irony of the major party conventions: As their price tags have risen — more than ten-fold since 1980 — they have drifted from their original purpose. They're now little more than a multi-day advertising campaign for the party's candidate.
That's not the case at the Libertarian bash. "We have a big field of individuals seeking our nomination this year — about 14 candidates so far," Cory says.
Of the Republicans and Democrats, he says, "There's going to be a lot of glitter and balloons thrown around, but there's not going to be much of a debate as far as who the nominee is going to be." That's assuming the battle between Sens. Hillary Clinton and Barack Obama is resolved before the Democrats meet in Denver in August.
Libertarians clearly take a lot of pleasure in teasing their major-party cousins about their conventions. But some of that may be jealousy. Cory says he'd like to imitate the host-committee models for raising money.
"I would like to go ahead, form the convention committee," Cory says. "And then the host committees can form on their own. ... And then we could really start taking advantage of these same benefits, where individuals can give unlimited amounts to these host committees."