Richard Price Cracks a Hard-Boiled 'Lush Life'
Richard Price reads from 'Lush Life'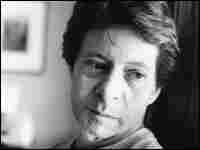 Discussion Highlights
"There's no writing in a screenplay"
On having his work adapted to film
"What I learned in screenwriting..."
Price on his Bronx accent (Note: Strong language)
Richard Price is a crime writer with a knack for capturing the rhythms and language of the modern world. His new book, Lush Life, takes a hard-boiled look at Manhattan hipsters, and the lawlessness lurking behind the veneer of trendy New York neighborhoods like the Lower East Side.
"There's about six different subcultures down there," Price told the Bryant Park Project in an April interview. "It's chaos. And I couldn't figure out how to write about this place without is sounding like a travelogue. And then I realized, which is something I've done before, is when you have a very Byzantine landscape, a crime, if you follow the progression of an investigation, it's sort of a lazy man's way to a plot."
Price has written eight novels, including Freedomland and Clockers, which was adapted to the screen by Spike Lee. He wrote the screenplay for the 1986 film The Color of Money and, more recently, award-winning episodes of HBO's The Wire.
Listen to last week's Book Tour, and subscribe to the Book Tour podcast.