Teen Singers Shine in Houston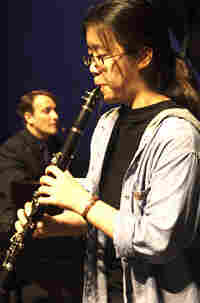 This week, talented teen voices ring out at the home of Houston Grand Opera. From the Wortham Theater Center, a 17-year-old soprano sings Copland, three Texan "spirits" sing a scene from Mozart's Magic Flute. Also, a confident clarinetist plays Saint-Saens, and a teen trio performs Smetana. For the grand finale, all the young musicians join to perform music from Humperdinck's Hansel and Gretel.
Elizabeth Kaufman, 18, Joan Scheirman, 15, and Emily Townsend, 17, started out singing with the Houston Grand Opera Children's Chorus and recently performed in the HGO production of Mozart's Magic Flute, singing the roles of the three spirits.
"There is a stereotype that opera singers are stuck up and mean," says Kaufman, "but they're all such wonderful people. They're so nice to us; they joke around with us and treat us like adults."
This week's special guest, soprano Rebekah Camm, is in her final year of residency as a young professional with the Houston Grand Opera Studio. This season, she appeared as Pamina in The Magic Flute. Camm began her vocal studies at the University of Michigan and was a Young Artist with Santa Fe Opera. In 2007, she made her Los Angeles Opera debut in Beethoven's Fidelio.
"My three years here have been spectacular," Camm says. "It's a little bit sad leaving, but they really prepare you to step out on the world's stage."
Kaufman, Scheirman, and Townsend join Camm (as Pamina) to re-create the scene from Mozart's opera.
When 17-year-old Qiudi Zhang first moved to the U.S. from China, she noticed that many of the kids in her elementary school played instruments and she wanted to play one too. Zhang asked her grandmother, who worked at an instrument shop, for advice, and her grandmother suggested the clarinet.
"She told me the clarinet looked easy," says Zhang. "She was a big liar!"
A Jack Kent Cooke Young Artist , Zhang studies clarinet at the North Carolina School for the Arts. She plays a movement from the Clarinet Sonata in E-flat by Camille Saint-Saëns.
"The most challenging thing about singing is learning to love your voice," says 17-year-old soprano Caitlan Pitts. "There are times when things aren't working quite right or when you don't like how your voice sounds — maybe you want it bigger or brighter or fuller."
At those moments, Pitts reminds herself how each voice is unique and how much she enjoys singing.
"So much of being a performer is the journey towards developing a sense of confidence in your voice and in your talent," she says.
Pitts is a member of the Houston Grand Opera High School Voice Studio, and plans to pursue vocal performance in college. She sings "Why do they shut me out of Heaven?" by Aaron Copland, accompanied by host Christopher O'Riley.
The members of Trio Vita — violinist Ryan Murphy, 15, cellist Stanley Moore, 16, and pianist Brian Chang, 17 — all study at Midwest Young Artists, a youth music program in Chicago.
The three make no bones about their pet peeves with the each other. "Stanley is very vocal, which is fine," says Murphy, "but he describes his ideas through impossible to understand metaphors!" According to Moore, Murphy is the annoying one. And, as for Chang, both Murphy and Moore complain that, "Brian doesn't say anything at all."
In all fairness, the three young musicians do actually like each other a lot, which, they say, can be heard in their cohesive performances. Trio Vita performs the final movement from Bedrich Smetana's Piano Trio in G minor.
The grand finale of this week's show features all of the musicians on stage to perform the final two scenes of Engelbert Humperdinck's opera Hänsel and Gretel. Young singers from the Houston Grand Opera High School Voice Studio and Children's Chorus join Trio Vita, along with 17-year-old clarinetist Qiudi Zhang, 17-year-old violinist Autumn Chadonowski and 18-year-old violist Rebekah Rudy. Christopher O'Riley conducts.
This program originally aired on April 30, 2008.