Melomane: 'Hilarious'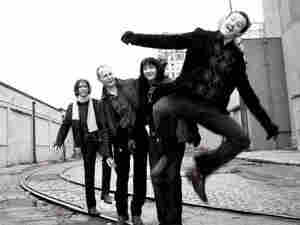 Listening to the music of New York pop quartet Melomane can be a life affirming experience. The band's cheery tunes on their latest CD, Glacier sound like an easy-breezy stroll through the park on a cloudless day. But to the group's credit, they don't suffer from blind idealism — there are shadows in the songs where darker thoughts lurk — which turns what might otherwise be saccharine pop songs into more thoughtful meditations on love and loss.
The opening track, "Hilarious" isn't exactly hilarious, but it is incredibly catchy, with an addictive melody, gentle rhythms and sweet harmonies. Melomane's sound is essentially chamber pop. It's got a cinematic breadth, with subtle layers of warmly orchestrated guitars, horns and bells. A kalimba skips through "Hilarious," giving the track an infectious playfulness.
Melomane frontman Pierre de Gaillande formed the group in 1998. It currently features bassist Daria Klotz, keyboardist Quentin Jennings and drummer Kenny Savelson.
Melomane is currently at work at a new EP of disaster-themed songs due out early next year.
Download this song in the Second Stage podcast