Is the Weak Dollar to Blame for High Oil Prices?
Is the Weak Dollar to Blame for High Oil Prices?
Plenty of analysts and economists are serving up theories about why oil prices are so high. But those theories contradict each other or are built on weak evidence. Nobody has cracked the code.
JPMorgan economist David Hensley gets paid to explain this oil price spike — and even he throws up his hands.
"The problem is that no one seems to be able to put together a coherent story as to why commodity prices are as high as they are," Hensley says. "So, we're all left fumbling around, trying to put one together on our own."
But the head of OPEC has said it's all the fault of the United States and the weak dollar.
He is certainly at least partially right. By definition, the weaker the dollar is, the less a dollar buys. The dollar has lost around 10 percent of its value in the world over the last year, so a dollar should buy about 10 percent less oil than it did a year ago. But oil didn't go up 10 percent in the last year; oil prices are up 85 percent.
"It must be the case that something else is going on here that extends way beyond the weak dollar," Hensley says.
So, if it's not just the weak dollar sending oil prices up, maybe it's supply or demand. Maybe supplies are lower than last year or demand is higher.
Hensley says this might seem like an easy question to answer, if we knew what supply and demand were. But strange as it may seem: Nobody knows how much oil the world actually demands each year.
"At the same time," he says, "we don't know for sure what the supply is at any point in time."
So, he says, we guess what the supply and demand are. And the best guess tells us that supply hasn't gone down enough and demand hasn't gone up enough over the last year to account for the huge run up in fuel prices.
"Investors are looking for a place to make money," says Jim Williams, an oil economist with WTRG.com, "and the only thing that seems to be going up is the price of crude oil."
Investors, of course, are always looking for a place to make money. But last year, Williams says, there were also the subprime housing market and stock market to invest in. Oil was one option among many. Now, it looks like the only option.
"But here's the problem that's created: You got that good idea because you saw oil going up and nothing up — so did a whole bunch of other people," Williams says. "What happens when a bunch of people want something they didn't want before? The price goes up."
This is called "speculative investment." People buy oil not because they want oil, but because they are speculating that oil will keep going up.
Now, here's what's interesting: The weaker the dollar, the more this happens. Investors turn away from U.S. investments — Apple computer or treasury bonds, for example --because the dollar keeps losing value. They don't want dollars. That makes oil even more attractive, which sends the price of oil higher. That, in turn, weakens the U.S. economy, which sends the dollar lower.
So, it's not just the head of OPEC saying it. Many believe that a weak dollar can push oil up far higher than seems to make sense.
Gas Prices Continue Climbing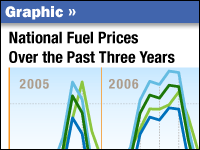 The cost of gas reached a new high on Tuesday, escalating to a national average of $3.51 per gallon — almost 66 cents higher than the price a year ago. The sharp rise has been driven, in part, by the increase in the cost of crude oil, now near $120, and the declining value of the dollar.
The sticker shock may not end soon. Here's a guide to what's going on at the pump.
What's driving up prices now?
The falling dollar, the transformation of commodity markets into financial markets and steady global demand for oil are all contributing factors, says Mark Zandi, chief economist for Moody's Economy.com and an economic adviser to Republican Sen. John McCain's presidential campaign.
"Given the turmoil in the credit markets, investors are turning to commodities and oil as a trading vehicle," Zandi explains. "It doesn't take a whole lot of money" flowing out of the bond or stock market and into oil or natural gas to drive up prices.
Typically during a recession in the United States, demand for oil falls because people make a conscious decision to drive less. But any decline in U.S. fuel consumption has been offset by greater demand for all kinds of fuel in emerging economies, which Zandi says are doing well and therefore contributing to the price escalation.
Strong global demand is likely to increase, not decrease, pressure on U.S. gas and oil prices. "China, India and other developing countries [that] are developing their economies –and a middle class — just keep putting more pressure on the supply of crude oil to turn into energy for themselves," says Jim Boyd, vice chairman of the California Energy Commission.
Is there any chance prices will fall soon?
No. Gas prices are rising quickly. At the beginning of the year, a gallon cost $3. Analysts and economists view the rise to more than $3.50 as a step along the way to prices that may exceed $4.
Is any relief coming?
Last week in Congress, Sen. John McCain proposed suspending the federal gas tax between Memorial Day and Labor Day this year as a measure of relief for consumers during the height of the driving season. The federal tax is 18.4 cents per gallon of gas and 24.4 cents per gallon of diesel.
The question to ask about such plans, says Billy Pizer, an economist with the Washington, D.C., think tank Resources for the Future, is how much of the money will flow into the hands of consumers versus corporations.
Some economists say that suspending the tax will only promote greater consumption and drive prices up — sending more money to oil producers, not consumers.
Are Americans feeling particularly squeezed because oil is priced in dollars and our currency is weak?
Zandi says the downturn in the U.S. economy, which he believes is in a recession, is taking a toll in a variety of ways.
"Nothing is going right for consumers in particular," says Zandi. "We're losing jobs, the stock market is down. House prices are falling. Gas and food prices are rising. It's all very debilitating, so the higher gas prices hurt more in that kind of context."
Will prices drop once the summer driving season ends?
After summer, gas prices typically do fall — but it depends on the price of crude oil, economists say. In the fall, the problem may shift – especially for consumers in colder U.S. regions —to increased costs for heating homes.
The Southeast, with a larger concentration of lower-income households, is typically hardest hit by rising gas and oil prices because residents spend proportionately more on energy, says Zandi.
Will we ever return to gas at $2 a gallon?
It's unlikely, especially in the near term.
"Every penny increase in the gasoline costs the American consumer $1 billion annually," says Zandi. "If we go from $3 to $4 that means $100 billion in extra cost."
Will the current pricing scenario hasten the use and development of new fuels and vehicles?
As more consumers feel pinched at the pump, their discomfort may spark individual and corporate action. "High prices in the market create responses on both the supply and demand side for fuel," says Pizer. This translates into consumers trying to save gas by driving less or searching for cars with higher fuel economy, he says. On the supply side, companies may turn to conventional sources for fuel that were not profitable in the past because they were difficult to obtain, unconventional sources that may have higher production costs or alternative fuels, he explains.
"I do feel sorry for the American consumer," says Boyd. "We've predicated our lifestyle on almost the God-given right to cheap gasoline. It's a rude awakening — a permanent awakening — we've got to have a mixed portfolio of transportation fuels. And we have to have more efficient motor vehicles."
Why are gas prices higher in California?
Since the early 1990s, to comply with federal law and its own stringent air quality standards, California has produced and utilized a different blend of gas that is more costly to produce. On Tuesday, the California retail price was $3.86, according to the California Energy Commission — 35 cents higher than the national average. Boyd attributes a third of the price difference to production costs. The remainder, he says, is because demand exceeds supply.
Material from The Associated Press was used in this report.