Iraqi Sprinter Dodges Wartime Obstacles to Train
Iraqi Sprinter Dodges Wartime Obstacles to Train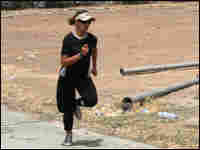 Profiles: Olympic Hopefuls
Learn about some U.S. athletes with Olympic dreams: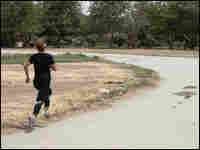 Her running shoes are torn and frayed. To train, she has had to dodge sniper fire, sectarian killings and occasional car bombs. But Iraqi sprinter Dana Hussein is undaunted.
The 21-year-old is one of four Iraqis who have qualified for this summer's Olympic Games in Beijing. And she's the only Iraqi who is currently training for the Olympics inside the war-torn country.
At Baghdad University, clouds of dust blow over the weed-choked quarter-mile track where Hussein trains. She lays a bath towel in the dirt and stretches under a tree in the stifling noon heat.
Nearby, her coach, Yousif Abdul-Rahman, nervously twirls a stopwatch. He recalls a training session during the height of the sectarian bloodshed when he and Hussein had to drive across Sunni-Shiite battle lines to try to reach the track.
"I think we drove through eight firefights that day," the coach says. "I thought we were going to die."
One day, the violence even encroached on this rundown track in the relatively safe Jadriyah neighborhood. Abdul-Rahman says both he and Hussein had to hit the dirt when a sniper opened fire from a nearby rooftop.
"When she was training, the sniper shot the first round, and it crossed near Dana and hit the tree. She dove for cover," Abdul-Rahman says. "Then another round hit the field."
Tuning It Out
It might seem impossible, but Hussein says she tries to tune out Baghdad's turmoil and focus on running.
"I'm very ambitious, despite all the challenges I face in the streets," she says. "If the street is blocked or there's shooting, I'll take a different road, because I want to reach new goals and move forward."
Hussein pulls her black hair into a ponytail; thin gold bracelets dangle from her wrists. She says qualifying for the Olympics in the 100- and 200-meter dash is bittersweet.
"I want to train now and cry at the same time," Hussein says. "I'm happy because I qualified and will represent my country. But the problems. ... It's so hot here. And there is no training camp abroad for me. Sometimes I can't make it here to train because of the security situation."
Hussein comes from a sports-loving family: Her brother is a bodybuilder, and her father was a champion bicycle racer with the Iraqi national team.
In the searing 105-degree heat, Hussein steps onto the university's ragged track — parts of which have ankle-twisting cracks and crevices in the asphalt. She puts on her special track-and-field sprinter's sneakers — one running shoe is badly ripped along the seams — and begins to warm up.
A Troubled Olympic Committee
Iraq's Olympic committee was once run by Saddam Hussein's sadistic son Uday, who famously abused athletes who didn't perform well. The committee is no longer a bastion of brutality, but it is broke, sectarian and politicized, and its members are regular targets: The committee's deputy director was gunned down at a Baghdad bus station just a few weeks ago. The Olympic committee's director and some 30 employees who were kidnapped in the summer of 2006 are still missing.
The three other Iraqis who have qualified for the Beijing games — all men — are training overseas. The committee promised Hussein a training camp abroad, but so far, it hasn't materialized. Now, she says, it's probably too late.
"The Olympic committee cannot do anything to provide me a training camp," Hussein says. "They gave me one in Italy one time, but they made me go without my trainer and coach. I prefer to just train here with my coach than to go abroad without him."
In addition, the track clothes the committee gave Hussein didn't fit, so she had to sew the Iraqi flag onto running outfits that she bought with her own money.
"If I leave this sport, I think life will stop," she says. "Life must continue, even with the security situation so bad, because I have ambitions. I love this sport too much."
Last summer, the Iraqi soccer team's improbable win at the Asian Cup brought the shattered country together, at least for a fleeting instant. The Iraqi sprinter knows that she's a long shot to win a medal in Beijing, but she says confidently, "As long as I have ambition, maybe I can achieve something for my country."