Obama Gains on Clinton's Superdelegate Lead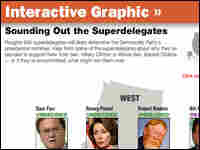 A leader of the Democratic Party under former President Bill Clinton has switched his allegiance to Illinois Sen. Barack Obama and is encouraging fellow Democrats to "heal the rift in our party" and unite behind the Illinois senator.
Joe Andrew, who was Democratic National Committee chairman from 1999-2001, planned a news conference Thursday in his hometown of Indianapolis to urge other Hoosiers to support Obama in Tuesday's primary, perhaps the most important contest left in the White House race. He also has written a lengthy letter explaining his decision that he plans to send to other superdelegates.
"I am convinced that the primary process has devolved to the point that it's now bad for the Democratic Party," Andrew said in a telephone interview with The Associated Press.
Bill Clinton appointed Andrew chairman of the DNC near the end of his presidency. Andrew endorsed New York Sen. Hillary Clinton last year on the day she declared her candidacy for the White House.
Asked for a response to Andrew's decision, Clinton spokesman Phil Singer said, "We support the Democratic process and think that every American should be able to weigh in and support the candidate of his or her own choosing."
Andrew's decision puts Obama closer to closing Clinton's superdelegate lead. Clinton had a big advantage among superdelegates, many of whom, like Andrews, have ties to the Clintons and backed her candidacy early on. But most of the superdelegates taking sides recently have gone for Obama, who has won more state contests.
Obama now trails her by just 16 superdelegates, 247-263. This week, he picked up 11 superdelegates, including three add-on delegates named by the Illinois Democratic Party, while Clinton netted three.
Material from the Associated Press was used in this report.