Credit Picture Different for Rich, Poor Households
Last of a five-part series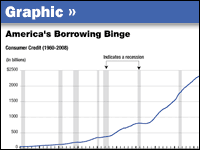 Americans have been borrowing aggressively to keep up with the rising cost of living. But with credit tightening for mortgages and credit cards, this may no longer be an option for many lower-income households.
"If you go back 25 years ago, the debt problem was much smaller," Mark Zandi, chief economist with Moody's Economy.com, tells Steve Inskeep. "Fewer households had credits cards and other debt. Today, many households do. Some households are very, very indebted and struggling."
Zandi, an economic adviser to Republican Sen. John McCain's presidential campaign, says America's debt picture is the story of two kinds of households.
Those with lower incomes make less than the median income, which is about $50,000 a year. "They are very indebted," Zandi says. "They've been borrowing very aggressively over the past 20 to 25 years. They're the folks [who] are going into foreclosure and bankruptcy and, if not, struggling to make those debt payments."
Those with higher incomes are "in quite good shape financially. If they do have a loan, it's probably a fixed-rate mortgage loan. Other than that, they really don't have any other debt."
Zandi says the rising debt taken on by consumers masks "a fundamental problem, particularly among those half of households that have lower incomes. They have been under a lot of pressure over the years. The jobs that they had in manufacturing have been lost, and they're competing against labor all across the world and suffering as a result. They used debt to try to supplement their incomes and now they can't.
"So we're going to have to start facing up to some of these deeper, broader problems," he says.
Zandi says consumers will find it increasingly difficult to borrow. "Lenders are going to be much more targeted in who they extend credit to, how much credit they extend everybody and under what terms," he says.