Classical Teens: Making Music in Maryland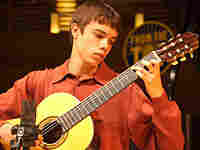 This week, from The Music Center at Strathmore in Bethesda, Md., an award-winning teen quartet plays Debussy, a young baritone performs a song by Vaughn Williams, and a 15-year-old violinist plays music from a Saint-Saëns concerto.
John Brancy is a singer who understands the importance of creating a character when he performs.
"I'm not just a voice or a body up there on the stage," he says. "Emotion is a huge part of every piece I perform."
The 18-year-old baritone has performed in school choirs and musicals since the fourth grade. Classical voice, however, is his greatest passion. Brancy even found his audition for the prestigious Juilliard School surprisingly uplifting.
"I was definitely nervous at first," he says, "but when I got in the audition room, I felt such a wonderful welcome from the judges. I felt free to just perform my heart out and explore all the emotions inherent in the songs. My audition for Juilliard was the most inspiring experience of my life so far as a young artist."
Brancy performs "Youth and Love" from Songs of Travel by Ralph Vaughan Williams, accompanied by pianist Christopher O'Riley.
The Newman Quartet hails from the Settlement Music School in Philadelphia. The members — 15-year-olds Justine Lamb-Budge and Robyn Bollinger, violins; and 18-year-olds Sarah Rommel, cello, and Paul Laraia, viola — have known each other for years, and play so well together that they took second place in the prestigious Fischoff Chamber Music Competition. The group believes its musical rapport comes from how close they are as friends.
The quartet plays the first movement from Claude Debussy's String Quartet.
Fifteen-year-old guitarist Thales Smith says, "If I hadn't been born in Austin, Texas, I probably wouldn't be playing music today." Smith grew up seeing a lot of live music and still goes to concerts at least once a week with his parents. He also makes music with two friends in the Austin Sonance Guitar Ensemble.
Smith plays the Etude No. 1 by Giulio Regondi.
Pianist Eun-Hye "Grace" Lee has been surrounded by music all of her life.
"My father is a music minister so I've been hearing music from the time I was in my mother's womb," she says. "I'd hear melodies when I was very little and naturally want to play them myself."
Lee started taking piano lessons when she was six, after her parents found her plunking out the notes of a song she'd heard at church.
The 18-year-old Lee hopes to one day become a concert pianist.
"I'm in love with music," she says. "I love the moments when I'm learning a new piece, and I love the moments when I'm polishing the piece and making it my own. I love the whole process of making music." She performs music from Samuel Barber's Piano Sonata.
Madeline Watson, 15, has four brothers and a sister, most of whom also play instruments.
"The youngest of us hasn't started playing anything yet, but I'm sure he will," she says.
In addition to playing solo, Watson enjoys performing with a community and youth orchestra. She plays music from the Violin Concerto No. 3 by Camille Saint-Saëns.
This show originally aired on October 3, 2007.