Road-Trippers Confident They'll Set Record
Road-Trippers Confident They'll Set Record
Three guys are driving across the country in an attempt to break a record for traveling through all 48 contiguous states. The current record is five days and seven hours.
Host Steve Inskeep talks to Adam Gatherum about his journey.
Utah Dudes Undertake 48-State Road Trip
Utah Dudes Undertake 48-State Road Trip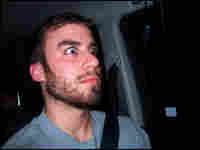 Joey Stocking, Adam Gatherum and Josh Keeler are attempting a record-breaking cross-America road trip. As Keeler says on a cell phone call Tuesday morning, the three friends started driving in Vermont on Sunday to begin their attempt to hit all 48 continental states in 124 hours — and beat the record by three hours.
"We're running a little bit ahead of schedule," Keeler says, 46 hours into the trip and 10 miles south of Indianapolis. "We're cruising."
The attempt won't be an official Guinness record, as Guinness officials are reluctant to sanction such long-distance milestones for fear of encouraging speeding. The men are driving a Scion xB and by Tuesday morning had hit 27 states, with 21 remaining.
The plan — a route from Vermont all the way south to Florida, up to the Great Lakes and back down to the Southwest before rounding up to Utah — was Keeler's dad's, who 15 years ago had to jettison his own attempt when his mother — Keeler's grandmother — died.
"He never put it quite in those words," Keeler says, but "life happens."
Keeler says he and his friends — picked because they had been on road trips before — went with the Toyota because it is roomy for its small size and gets pretty good gas mileage. As for fuel prices, Keeler says they've seen as high as $4 and paid as low as $3.50.
So far, Keeler says the most interesting thing he has seen is the freeway across Louisiana — miles of roadway suspended over swamp: "Way out of anything I've seen previously in my travels."
>> Check back Wednesday for another Bryant Park Project update — and in the meantime, visit the trio's blog, updated from the Scion, at GreatAmericanRoadTrip.us.