Chinese Farming Family Builds New Home, Lives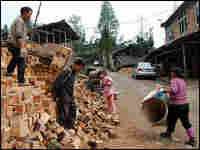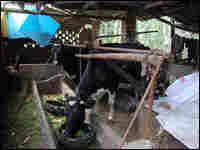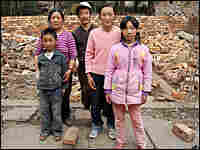 The aftermath of the earthquake in China has evoked reflections on home and stability.
A month before the massive temblor, one woman and her family who live in the countryside a couple hours southwest of Chengdu in the region of Ya'an were hard at work building a new house.
Yao Suhui, 33, and her husband are peasant farmers. The new house is a symbol of upward mobility in the Chinese countryside.
Four generations of the family were living on a construction site among piles of orange bricks and buckets of mortar, including Yao's two children, her in-laws and her husband's 95-year-old grandfather. Everyone pitched in to build the home, mixing mortar and carrying bricks. They tore their old house down to make room for the new one.
After the earthquake, Yao told NPR's Melissa Block during a phone conversation that her whole family was fine. She said when the earthquake hit and she saw the half-finished house shaking, she felt her heart was about to jump out of her chest.
"What bad luck," she recalls thinking. "We've put everything we have into building this new house, and if it collapses, we have nothing."
Luckily, just one wall fell down. Yao reports that they were back at work laying bricks the very next day.
As they continue work on the house, they cook outside under plastic sheeting and they sleep where they can. Yao's children, who are 9 and 11 years old, climb up a wooden ladder to sleep under the rafters in the corncrib. She and her husband sleep on a platform, just a few feet above the pigsty, with some bits of plastic tacked up for privacy.
The smell can be overwhelming.
But Yao shrugs with patient resignation. She sees the new house as a sign that bit by bit, the family is improving its standing.
"Five years ago, our family was pretty poor," she says. "But through hard work, we've become — well, I wouldn't say we are well off, but compared to our neighbors we're OK. We're getting by."
The new house will cost them about $8,000. To help finance the construction, they borrowed heavily from friends and family.
Overall, Yao and her husband have more income now. They have shifted from corn farming to animal husbandry, raising pigs and cows. The couple also is among millions of farmers in western China participating in a government "grain to green" program meant to turn farmland into forests. The idea is to increase forest cover and prevent soil erosion. The family agreed to plant bamboo and fir trees instead of corn. In exchange, they get subsidies from the government — at first it was in grain, now it's cash. The money helps them buy more cows.
Three times a day, Yao hooks up the milking machine to her family's two cows. Selling milk brings in about $150 a month.
Patience Will Pay Off
The family broke ground on the new house at the end of March, on a day picked by a feng shui master. They lit red candles and set off firecrackers.
"You have to ask a feng shui master to pick an auspicious time," Yao says. "People say if you don't respect what he says, you'll have problems down the road."
Yao says her son had been agitating for a new house.
"He didn't want to live in the old house anymore," she says. "He said, 'All my classmates have new houses, why don't we?' "
Yao is hoping her children's lives will be easier than hers. She had to leave school after sixth grade.
"I'll encourage them to stay in school longer, to try their best to avoid our current situation," she says. "The way things are now, you can only find a good job if you're educated. People like us — we're going to be left behind. So we'll try our best to keep them in school so that they can have a better future. Then, our hard work will have paid off."
A Better Way of Life
Yao says her life is better than her parents' lives when they were her age.
"My parents survived on beans and sweet potatoes," she says. "They didn't have enough grains, enough rice, to eat. As children, we mostly ate corn. For our kids' generations, things will surely be better. When we were young, we hardly ate any meat — we barely had enough to eat; how could we have eaten meat? Now, we slaughter three pigs a year. We have enough meat now."
Yao dreams of more, especially a washing machine.
"Right now, I'm so busy with work — and my kids are too young, they can't help wash clothes," she says. "So that's what I need most right now."
The new house will have several bedrooms, a living room and an indoor bathroom — a luxury for the family. They have always used a crude hole in the ground right by the pigs.
Yao said the family hopes to move into their new home by July. When the house is finished, she says, they'll throw a big banquet for friends and relatives and light firecrackers in celebration.