Highlighting the Classics
Revisiting Memorable Young Musicians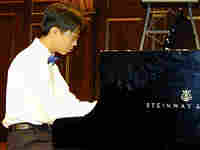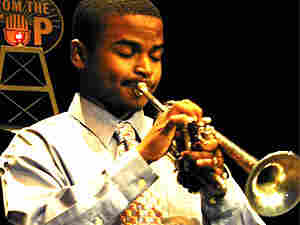 This week, host Christopher O'Riley revisits some excellent music-making from past shows, where a 13-year-old violinist with an affinity for engineering plays Kreisler, a 13-year-old pianist and medical student performs Schumann, and four top trombonists slide into an ear-catching contemporary work
Trumpeter Alphonso Horne, 17, loves playing classical music, and has a deep admiration for the Russian composers Stravinsky and Tchaikovsky.
Horne also plays a mean jazz trumpet. His idol is trumpeter Wynton Marsalis — who also plays both styles — and the two even shared the stage once during a jam session at the Essentially Ellington camp.
"My teacher dragged me up on stage with Wynton," recalls Horne. "I was so nervous, but I played with him and we tore it up!"
Horne demonstrates his considerable classical chops by playing a Rondo by Hummel, accompanied by host Christopher O'Riley.
By the time pianist Sho Yano was nine, he was enrolled in college. Yano is clearly exceptionally gifted, but he insists he's never felt pressured to move forward academically.
"I've just been going at my own pace," he says.
At thirteen, Yano is already in his second year of medical school, where he loves taking exams. "Tests are like recitals," he says. "They give me the opportunity to show what I've learned." He performs two pieces from Schumann's Fantasy Pieces.
When one trombone just will not do, there's The Bone Rangers — Kevin Dumbrowski, Jonathan Laxton, Sean Tripp, and Matthew Wolford — a quartet of teens from the trombone choir of Chicago's Merit School of Music. They perform Walter Ross's brassy Trombone Quartet.
Stella Chen started taking piano lessons when she was five but decided she'd rather play violin after hearing a friend play one. Although Chen, 13, still plays piano, her main instrument is the violin. She practices a lot — up to four hours every day and sometimes more on weekends.
"There's just so much to explore with violin," she explains, "that's why I practice so much." On Saturdays, Chen attends the San Francisco Conservatory of Music where she takes music lessons and also plays with a trio. She plays Tambourin Chinois by Fritz Kreisler.
Nathan Bello discovered piano rolls as a child when his father worked in a piano store. Now he owns about 4000 of them, as well as four player pianos.
"It's almost a magical experience to watch the keys of a player piano go up and down by themselves, almost as if a ghost were present," says Bello.
From his collection of vintage piano rolls, the 18-year-old pianist plays his own transcription of "The Enchanted Nymph," by Theodor Leschetizky.
Sixteen-year-old cellist Natalie Helm takes daily dance classes, trains as a competitive swimmer, and volunteers at the zoo, but still finds time to play the cello.
"I love the sound, the instrument, and the fun that comes along with being a cellist," says Helm.
She plays Après un Rève by Gabriel Fauré, with pianist Christopher O'Riley.
This show originally aired on October 17, 2007