Elvis, bin Laden and Hitler Join Mission to Mars
Elvis, bin Laden and Hitler Join Mission to Mars
NASA/JPL-Caltech/University of Arizona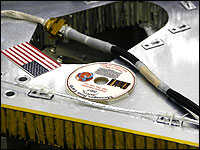 A NASA spacecraft is headed toward Mars and is expected to land later this month. When it touches down on the dusty red planet, so will "Adolf Hitler" and "Osama bin Laden."
That's because the spacecraft is carrying a special DVD that contains thousands of names collected online. The idea was to give the public a chance to participate in the mission.
That kind of public involvement wasn't possible decades ago, at the beginning of the Space Age. Back then, the messages sent from Earth were all carefully crafted, like the famous plaque carried by Apollo 11 in 1969: "We came in peace for all mankind."
And remember the Voyager "Golden Record" sent off in 1977? It included greetings in dozens of languages, a message from President Carter, and natural sounds from all around the planet. Everything was selected by an expert committee headed by famed astronomer Carl Sagan.
But in the Internet age, messages from Earth are starting to become a kind of free-for-all. More and more missions are encouraging the public to send along a little something — and that can have unintended consequences.
What's in a Name?
Later this year, for example, NASA plans to send up the Lunar Reconnaissance Orbiter. The mission has a Web site that lets people enter their names into a database that will go with the spacecraft.
More than 100,000 names are already on the list — including Deborah Jeane Palfrey, the woman recently convicted of running a high-profile prostitution ring in Washington, D.C. After she committed suicide last week, the satirical Web site Wonkette responded by adding her name to the lunar list: "Wonkette just sent your name to this moon spaceship, Deborah. Enjoy the ride to a better place!"
Some people found that inappropriate. Victoria Friedensen, who works on that NASA project, says the question of whether that particular name will go to the moon is "an interesting question for us."
Anyone can add any name, she says, and they don't track the computers that make entries. She has no real way of knowing what a person's intent is, or of guaranteeing that the entry wasn't in earnest by someone with the same name.
"We don't have any way to know any of that," Friedensen says. Of Palfrey's listing, she says, "It's extremely unfortunate that that happened and that it got posted that way."
She says NASA can filter out obvious obscenities, but that's about all it can do.
Kilroy Was Here
Other programs like this have run into similar problems. For example, someone apparently went to a Web site and entered the names of Adolf Hitler and Osama bin Laden so they'd be included on a special DVD aboard the Phoenix spacecraft bound for Mars. Other names on that list include Donald Duck, John Lennon, Elvis Presley, Malcolm X — and you know that old graffiti "Kilroy was here"?
"It's anyone who signed up," says Bruce Betts of the Planetary Society, which collected a quarter-million names to go on the spacecraft. Betts says there will always be a few people whose intentions aren't good, "but really, you know, 99.99 percent of the people are doing it for genuine interest."
If names are tricky, what about essays? NASA is soliciting 500-word messages that will rocket into space next year onboard the Kepler spacecraft, which will search for Earth-like planets.
David Koch, who works on the project at NASA's Ames Research Center, says he hopes millions of people will sign up.
"If somebody wants to submit Mickey Mouse as a name, that's fine with me," he says. And if someone wants to write something offensive, even something racist and nasty, "if that's what they want to do, I'll let them."
He says that doesn't mean NASA endorses those views. Koch just doesn't like restrictions, because "the whole idea is to let people show their enthusiasm for the space program," he says. "If somebody wants to be a downer, I'll let them be a downer. People do have those instincts sometimes."
Worries About Response Here on Earth
The X PRIZE Foundation also wants to let people send a message off the planet, but it's taking a different approach. Its Lunar Legacy project has been collecting photos and messages for a future, privately funded moon mission. The public can see all of the submissions on a Web site, and there's an e-mail address so that people can report inappropriate content.
"Our concern is not so much that there is something offensive being carried to the moon — it's just that these things are on display," says Bob Weiss, the foundation's vice chairman. "And so it's folks' terrestrial interaction with them that we are concerned with."
He says if they get a complaint, they'll make a judgment call about the submission — but that hasn't happened yet.