Clinton Stretches Her Dollars as Race Stretches On
Clinton Stretches Her Dollars as Race Stretches On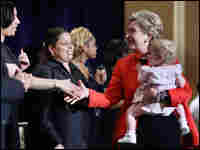 Davis Turner/Getty Images
As the Democratic primary campaign grinds on, money has become one of New York Sen. Hillary Clinton's biggest problems.
Some of the most determined presidential candidates have been forced out of contention when their coffers ran dry, but few could have foreseen Clinton's funding drying up. When she launched her campaign in January 2007, conventional wisdom held that she would vacuum up all available cash in the Democratic primaries.
And in traditional terms, she did. Her donors were mainly big givers with track records of giving to Democrats. But many of them quickly hit the $2,300 contribution limit and were effectively sidelined.
Meanwhile, Illinois Sen. Barack Obama found hundreds of thousands of donors whom traditional Democrats had never reached, quickly turning the race into a duel for dollars. By the time the actual primary voting began in January, he was pulling ahead in the money race, in large part by dominating on the Internet.
On Jan. 9, the day after Clinton's upset win in New Hampshire, her campaign chairman, Terry McAuliffe, crowed over a bounce in Internet fundraising.
"Since last night, we have raised about $750,000," he said on NPR's Morning Edition. "That's all online. We've been getting about 500 hits per minute" on the campaign Web site.
Clinton went on to have other good nights, also followed by fundraising bounces. But Obama's fundraising never faltered. His donor list hit 500,000 — observers called it astonishing — and just kept growing. This month, it passed the 1.5 million mark. And while many of Clinton's original donors had maxed out, Obama had built a base of small donors who could be solicited over and over again.
In one technique, the Obama campaign asked for $25 contributions, then went back to those donors and asked if they would give another $25, to be matched by $25 from a new giver.
Clinton's efforts were simply swamped. By April 22, the night of her big win in Pennsylvania, she was pleading for cash even as she declared victory.
"We can only keep winning if we can keep competing with an opponent who outspends us so massively," Clinton said as the crowd began to cheer. "So I hope you'll go to HillaryClinton.com..." and the cheers forced her to stop speaking.
This week, after she lost North Carolina and squeezed out a win in Indiana, there was no rush to proclaim a post-primary influx of cash.
"We had the second-best fundraising month that we've had in this campaign last month," Clinton campaign spokesman Howard Wolfson said. "We've raised an awful lot of money in this campaign. Senator Obama, to his credit, has raised more."
Two days after the primaries, a national finance chairman for the Clinton campaign, Hassan Nemazee, told NPR that it collected more than $1 million online in the first 24 hours after the polls closed. He said the campaign also raised more than $1 million at a major-donor event in Washington, D.C.
Still, Clinton's spending now outstrips her fundraising. Colby College political scientist Anthony Corrado says, "We've now reached the point in the campaign where Senator Clinton's fundraising cannot support the costs of the campaign."
But the campaign continues, thanks to personal loans from Clinton and her husband, former President Bill Clinton. Their loans exceeded $6 million in the past month.
Obama's cash advantage was on display in North Carolina and Indiana.
Obama, Corrado said, "had offices in the states before she did; he had more offices and staff in place; he began on television about three weeks before Clinton began advertising there; and in the end, ended up spending about $8 million on television as compared with $4.5 million for Senator Clinton."
Money isn't everything, even in politics. Obama outspent Clinton in Pennsylvania and still lost by nearly 10 percentage points. He could easily outspend her over the next few days in West Virginia, but she is expected to win there by 30 points.
Then comes Oregon. Independent pollster Tim Hibbitts in Portland says Obama's political ads have been on television there for more than a week. Clinton's ads just started rolling.
TV isn't as important as fieldwork in Oregon, and Obama is spending more there, as well. He has 17 field offices to Clinton's seven.
Hibbitts said Obama's troops "are on the ground in a lot more places in Oregon, and they're on the ground in some small and midsize towns that I think a presidential campaign has not opened an office in in quite some time."
On the Republican side, presumptive party nominee John McCain plans to take public funds in September for the general election. But until then, the Arizona senator has to depend on private donors, and he has never been a first-rank fundraiser.
In the first three months of 2008, McCain brought in roughly $400,000 a day. Obama was banking three times as much — an average of $1.2 million per day.