Excerpt: 'One More Year'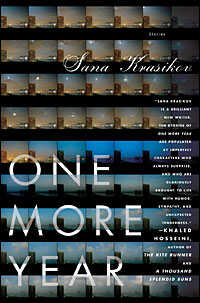 More Recommendations:
Get more first book recommendations from Rick Kleffel.
One More Year
By Sana Krasikov
Hardcover, 240 pages
List Price: $21.95
From the story "There Will Be No Fourth Rome"
"Aunt Larisa?" I said. "You wouldn't have anything to read here that would be in English?" I had deliberately not brought along any reading material so that I would have to force myself to read in the language of my childhood. Every evening in bed I would pick up some book from the shelves in Larisa's study and try to read a page or two before I fell off to sleep. It was a grueling exercise. The written language was fraught with delicate phrasings and traps of syntax I could barely navigate. After a week and a half I had actually gotten worse, for I'd begun to struggle against my own stupidity.
I followed Larisa into the study. Right before she'd broken her hip, she'd "redecorated" the apartment, which meant she'd pretty much taken everything extra — all her books and her collection of ceramic cats — and squeezed them into the tiny alcove where I now slept. I sat down on the sofabed and watched her explore the shelves for English literature. I realized how much I loved that room and how much it summarized Larisa, with its gauzy white curtain and its outdated calendars of Chagall and Picasso, and the picture postcards of Edith Piaf and Frida Kahlo stuck in the glass panels of the bookcases.
"Here we are," she said, pulling two small books out from behind some larger volumes. In her hands were the collected plays of Oscar Wilde, in hardcover, and a tattered paperback of Dr. Spock's Baby and Child Care.
"Oscar Wilde!" she said, looking as if she'd just rediscovered the book after twenty years.
"Can I see the other one?" I asked.
Curiously she looked at the Dr. Spock and handed it to me. When she closed the door behind her, I undressed and crawled under the sheets. I perused the extensive table of contents and opened to the first section of real interest: Discipline. I read: A child needs to feel that her mother and father, however agreeable, have their own rights, know how to be firm, won't let her be unreasonable or rude. She likes them better this way. There was no reason to punish your children, Dr. Spock said, if you guided them along with a firm hand from the very beginning and didn't let them wander into too much naughtiness. I read through a few more sections: Aggression, Duties, Jealousy, and Rivalry, which together added up to a cogent treatise on most of adult human behavior. Spock's advice on diarrhea, motor skills, and fresh air seemed all to be aiming at one point: you can't change another person's character, though you can change their behavior.
Like a magnetized needle my mind turned again to Conrad: had I mismanaged him, allowed him to behave worse and worse, until now, when punishment was the only option? Except punishing someone always meant hurting yourself even more. I wondered at what moment things had turned. They seemed to have been going wrong from the beginning: that second afternoon in my apartment when we lay in bed, sweating under the tangle of the down comforter, Conrad had sat up against my oak headboard. "Tell me something you don't like about me," he said. "It can be something small."
My right arm was pinned under him. I hauled myself up and gave him a stricken look.
"Fine," he said. "I'll start. The way you plant your lips down, then move the rest of your face from side to side when you kiss me, like you're kissing a toddler."
He lifted the back of his hand, pressed it to his lips, and imitated me. He was right. I didn't kiss like that all the time, but it was my signature move the moment the two of us were alone, my way of being tender. But I suppose there was a momminess, or an affected marital quality to it too that annoyed him.
"Now it's your turn," he said.
I watched him, stunned. "I don't want you to change anything," I said, taking the high road.
"Of course you do."
"I don't want to play this game," I said, and swung my legs over the side of the bed.
He was instructing me, I thought now. I had gotten it backward: I was the one being trained. There had been entire weeks in the office when we didn't say a word to each other, when it seemed like all of it had ended for good. But then on some late night when a group of us would be out for happy hour on account of a birthday, and the crowd would be petering out at last, he'd walk up behind me and rest his fingers on my shoulders ever so gently. And it would all start over again.
I was flying home in two days, and my body felt ready to revert to its old circadian rhythm. I took the phone back into the living room and tried to dial Nona at Dieter's apartment. When I hung up, I saw that Larisa was sitting on the couch with a heavy photo album open on her lap, and another one resting beside her. I got up from the footstool and sat down next to her.
"Look at him," she said, running her finger along the cardboard triangles of a photo frame. "So handsome. He looks just like your Teddy Kennedy, when he was younger." She was right: I could see that Alexei shared a certain resemblance with the men of Hyannis Port. His face was a little doughy but still robust and a bit prankish.
She turned the page to a picture of her father. Larisa looked exactly like him. In the photo he was dressed in a uniform and wore the dignified, knowing expression of the civic-minded intellectual.
"I took care of him, right here," Larisa said, and lifted her face up to look around the room. "He lived with me four months after his stroke. And that's when I fell and fractured my hip. I had to stay at the hospital after my surgery, and that same week he died." She looked at the photo and shook her head. I thought she might be crying, but when she raised her head, her eyes were dry. "I took care of him in his last days and he died in somebody else's arms. That's my fate," she said soberly. "Even my own Alyosha didn't die in my arms."
"In whose arms did he die?" I asked.
"She was the widow of one of his friends. He said he was in love with her, so what was I going to do? That's how it happens. After nineteen years...not that it hadn't happened in little ways before. He already had the cancer by then, but he didn't know it yet. A year later he died in her apartment."
I turned the cardboard page of the album and lifted away the acetate sheet. The two adjoining pages were pasted entirely with photographs of Larisa herself. There were pictures of a young, long-haired Larisa resting her chin in her palms and pouting at the camera. There were pictures of a bare-shouldered Larisa, coyly glancing upward, looking chaste even as she tried to look provocative; she had that brand of Slavic prettiness: broad-cheeked, benevolent, and rural.
"He loved to get me to pose for him. On Sundays he'd take out his camera, and we would stay home all afternoon just so he could take pictures of me." On the opposite page was a somewhat older Larisa from the eighties, wearing more eyeliner, her wispy hair cut short and feathered.
"We weren't like other couples. We were obsessed with each other. We were one of those couples who didn't need anybody else. That was the kind of love we had."
"But he left you," I said.
Larisa only shrugged. "He called me his Turgenyevskaya jenshina, his Turgenev woman. I guess that's what I am. In one lifetime I can love only one man. And my heart will always be given to him."
She was talking about a dead man, I thought. The Turgenev woman! I wanted to tell her that such women probably didn't even exist until Turgenev put them down on paper. But I knew that didn't matter to her: they were as real now to Larisa as Turgenev's lilacs and linden trees and fishponds. Single-mindedly devoted, they were women who, like Larisa herself, lived at a slower tempo than everybody else.
"And what about Misha?" I said instead.
"Well, it's hard to be alone. He's got his own children. I don't know why he can't let me into that part of his life. All I ever wanted was for us to do things together, like a family. You understand?"
I nodded. Larisa got up from the couch and walked over to open the balcony door, which the cat was scratching with its restless paw. Sweet Larisa, who lived in the world of her love. It didn't matter to her that her husband had left her. Or that he was dead now. She had loved him and she was still proud of that love. I remembered all the times in my life I had begun to fall in love, had fallen in love, and then told myself I had been wrong. Because people, when you got down to it, always ended up being so disappointing. Sooner or later you discovered something about them that would make you ashamed of what you had felt for them. Or they made things simple by not loving you back. Love unreturned wasn't really love; it was obsession, vulgar and misguided. Except that for Larisa, the reality of what had happened to her hadn't thrown all her old feelings into question. It had not caused her to disown them. Foolish, naïve, embarrassing, they were hers and she would die with them. Really, it was a kind of freedom, I thought.
Excerpted from One More Year by Sana Krasikov. Copyright (c) 2008 by Sana Krasikov. Reprinted with permission from Spiegel and Grau/Doubleday Broadway. All rights reserved.
One More Year
Stories
Paperback, 244 pages |
purchase
Buy Featured Book
Title

One More Year

Subtitle

Stories

Author

Sana Krasikov
Your purchase helps support NPR programming. How?