Quake's Injured Trek for Miles Seeking Help
Melissa Block in a devastated village
Melissa Block and Andrea Hsu are among an NPR team that was in Sichuan province, preparing a series of reports on China, when the earthquake hit Monday. For the team's latest stories near the quake's epicenter, read the Chengdu Diary. Melissa Block reports here from a route near Beichuan county, in one of the hardest hit areas.
As we drive up a mountain road, the destruction caused by yesterday's earthquake grows visibly worse. First we see roofs violently stripped of their tiles, then a few houses that have caved in in the middle; still farther, massive boulders, 10 or 12 feet in diameter, that have rolled down the mountain and blocked half the road.
Everywhere you look, people are living out in the open in heavy rain. Families have pulled mattresses outside; they're sleeping under tarps and umbrellas along the side of the road. With aftershocks still rumbling, no one wants to be inside.
Finally, we come to the village of Ganxi, a tiny strip of homes, many now pulverized by the earthquake. But as devastated as this village is, it has become a place of refuge for those fleeing villages in far worse shape.
We come across 14-year-old Zheng Mingzhong. He's hobbling down the road, leaning on a tall bamboo stick. His left foot is swollen and angry, covered with large pustules. He was hit by falling bricks when his house collapsed.
He says he fled his village with his grandmother. He walked three or four hours on his crushed foot, then hitched a ride on a motorcycle at the very end.
In Ganxi, the boy is carried to a crude clinic. The village doctor puts antiseptic on his foot and lances his horrible wounds. But he says there's a fracture. The boy will need more medical care somewhere else. How he'll get there is anyone's guess.
There's a steady stream of people trudging down this road into the village.
I find 36-year-old Zhao Rong as she crosses a bridge into town with four children, ages 9 to 15, streaked with grime.
She tells me they've walked about 20 miles from their town. Incredibly, she's wearing black heels, muddy from the journey. They've come with just the clothes on their backs.
Through a translator, she says they have lost everything; they have nothing. Her wrist is swollen. But she says there is not enough medicine and not enough medical staff. And it's not just her injury. One of the young boys has a badly bruised and puffy eye. He was hurt when he escaped from his school as the quake hit.
Zhao Rong lived in the town of Chen Jiaba, in Beichuan county.
She says, "When the earthquake hit, we saw lots and lots of houses collapse, and the dust was everywhere from the collapsed buildings. I felt like I was walking through a cement factory. I couldn't open my eyes or my mouth."
She says her town used to have 15,000 people. She thinks one-third of the population may have been killed in the earthquake. That would be 5,000 dead in that one town alone.
She says, "Everywhere, there were people lying dead or injured. It was terrifying."
Zhao Rong says huge boulders rolled down the mountain, from landslides caused by the earthquake. Those boulders have filled the local river, and now the people are afraid of flooding.
She says she doesn't know where she will go — that she will live life like a beggar.
As we talk, trucks and buses drive by, carrying other villagers out and away to areas not flattened. The scope of the devastation in these rural areas is still incalculable. But the relief effort seems to be ramping up.
On the main highway heading out of the provincial capital, we pass convoys of huge bulldozers on flatbed trucks — and a long line of buses filled with soldiers. They're headed into the ruined areas to help with rescue and relief.
Sichuan Quake Claims 12,000; Rescuers Scrambling
Robert Siegel with survivors in Gui Xi
Melissa Block describes scenes on the road
Witnessing a Quake
Melissa Block was in the process of recording an interview in Chengdu when Monday's earthquake hit. She fled the building and then reported on the scene.
More reports from the scene in Sichuan province: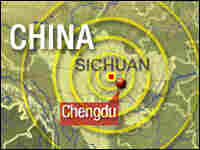 The death toll from a massive earthquake in China's Sichuan province was expected to soar Tuesday, as rescue workers scrambled to find survivors buried beneath rubble and debris.
The official death toll already has surpassed 12,000. The state's Xinhua News Agency said nearly 19,000 people were still buried in debris in and around Mianyang, a city about 60 miles east of the epicenter.
Thousands are feared to have been buried under factories, schools and other buildings that collapsed in Monday's magnitude 7.9 quake.
On Tuesday, fears increased that few survivors would be found under the rubble. Only 58 people have been rescued from demolished buildings across the quake area, China Seismological Bureau spokesman Zhang Hongwei told Xinhua. In one county, 80 percent of the buildings were destroyed.
Some 20,000 soldiers and police arrived at the disaster area to help with the relief effort, and 30,000 more were on the way, the Defense Ministry told Xinhua.
Impassable or debris-strewn roads hampered the Chinese army and other relief workers.
"What you have on the road that leads out through this area, and other roads, I believe, is you have rock slides," said NPR's Robert Siegel. "The roads are cut into mountains, and the earthquake shook loose rocks, in some cases, huge boulders the size of SUVs. And in other cases, entire mountainsides seemed to collapse on villages."
In Wenchuan county, soldiers hiked past blocked roads to reach the town of Yinxiu, near the epicenter. Of its 9,000 residents, only 2,300 were found, the state TV quoted local emergency official He Biao as saying.
The scene was grim throughout the quake zone. Rescue teams brought people evacuated from the hard-hit town of Beichuan to Mianyang's sports stadium for food and shelter. Outside the railway station, police shouted in megaphones, telling people where they could get free rice porridge.
Television footage of Beichuan showed few buildings standing amid piles of rubble in a narrow valley.
Meanwhile, White House spokeswoman Dana Perino said the United States would contribute $500,000 — and more, if requested — to help initial recovery efforts.
She said President Bush offered condolences in a telephone conversation with Chinese President Hu Jintao.
From NPR and wire reports