'Unspeakable Pain' at Collapsed School in China
'Unspeakable Pain' at Collapsed School in China
Melissa Block, one of two NPR correspondents who were in China at the time the earthquake struck, visited a school Monday where hundreds of children are feared dead. She recounts the scene where dozens of families, "heads bowed in unspeakable pain," sat with young, lifeless victims.
RENEE MONTAGNE, host:
One of the eyewitness accounts of this disaster comes from NPR's Melissa Block. Yesterday she visited a school where hundreds of children are feared dead. Listeners to last night's ALL THINGS CONSIDERED got a sense of what that means.
MELISSA BLOCK: Tonight, there were dozens upon dozens of families going through this same grim ritual, their heads bowed in unspeakable pain as they sat vigil over small, lifeless forms. Many of these young victims would have been their parents' only children. And in row after row, their parents sat huddled through the rainy night keeping watch one last time over their babies.
STEVE INSKEEP, host:
That's NPR's Melissa Block, one of two NPR correspondents who were in Southwest China at the time the earthquake struck. And you can read reports on this earthquake at NPR.org/chinadiary.
NPR transcripts are created on a rush deadline by Verb8tm, Inc., an NPR contractor, and produced using a proprietary transcription process developed with NPR. This text may not be in its final form and may be updated or revised in the future. Accuracy and availability may vary. The authoritative record of NPR's programming is the audio record.
Sichuan Quake Claims 12,000; Rescuers Scrambling
Robert Siegel with survivors in Gui Xi
Melissa Block describes scenes on the road
Witnessing a Quake
Melissa Block was in the process of recording an interview in Chengdu when Monday's earthquake hit. She fled the building and then reported on the scene.
More reports from the scene in Sichuan province:
In Depth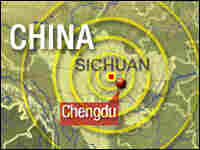 The death toll from a massive earthquake in China's Sichuan province was expected to soar Tuesday, as rescue workers scrambled to find survivors buried beneath rubble and debris.
The official death toll already has surpassed 12,000. The state's Xinhua News Agency said nearly 19,000 people were still buried in debris in and around Mianyang, a city about 60 miles east of the epicenter.
Thousands are feared to have been buried under factories, schools and other buildings that collapsed in Monday's magnitude 7.9 quake.
On Tuesday, fears increased that few survivors would be found under the rubble. Only 58 people have been rescued from demolished buildings across the quake area, China Seismological Bureau spokesman Zhang Hongwei told Xinhua. In one county, 80 percent of the buildings were destroyed.
Some 20,000 soldiers and police arrived at the disaster area to help with the relief effort, and 30,000 more were on the way, the Defense Ministry told Xinhua.
Impassable or debris-strewn roads hampered the Chinese army and other relief workers.
"What you have on the road that leads out through this area, and other roads, I believe, is you have rock slides," said NPR's Robert Siegel. "The roads are cut into mountains, and the earthquake shook loose rocks, in some cases, huge boulders the size of SUVs. And in other cases, entire mountainsides seemed to collapse on villages."
In Wenchuan county, soldiers hiked past blocked roads to reach the town of Yinxiu, near the epicenter. Of its 9,000 residents, only 2,300 were found, the state TV quoted local emergency official He Biao as saying.
The scene was grim throughout the quake zone. Rescue teams brought people evacuated from the hard-hit town of Beichuan to Mianyang's sports stadium for food and shelter. Outside the railway station, police shouted in megaphones, telling people where they could get free rice porridge.
Television footage of Beichuan showed few buildings standing amid piles of rubble in a narrow valley.
Meanwhile, White House spokeswoman Dana Perino said the United States would contribute $500,000 — and more, if requested — to help initial recovery efforts.
She said President Bush offered condolences in a telephone conversation with Chinese President Hu Jintao.
From NPR and wire reports