'Times' Reporter in China: Grim Scene Near Epicenter
In China, rescue workers have been digging through flattened homes and schools in a desperate search for victims of China's worst earthquake in three decades. Chinese authorities say nearly 12,000 people were killed and more than 18,000 are missing.
Co-host Renee Montagne talks to Mark Magnier, a reporter for the Los Angeles Times, for the latest developments near the epicenter.
Magnier says there is no power, and dozens of people are living in tents along the roads and in traffic circles. A severely damaged hospital had to move all of its patients into the courtyard, where they spent the night in the cold. "It's, um, pretty bleak," he says.
He says at one collapsed school Monday, about 20 percent of people being pulled from the rubble were alive, but almost no survivors were found Tuesday. "With each passing hour, it's getting more and more difficult," he says.
Sichuan Quake Claims 12,000; Rescuers Scrambling
Robert Siegel with survivors in Gui Xi
Melissa Block describes scenes on the road
Witnessing a Quake
Melissa Block was in the process of recording an interview in Chengdu when Monday's earthquake hit. She fled the building and then reported on the scene.
More reports from the scene in Sichuan province:
In Depth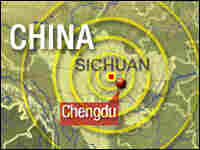 The death toll from a massive earthquake in China's Sichuan province was expected to soar Tuesday, as rescue workers scrambled to find survivors buried beneath rubble and debris.
The official death toll already has surpassed 12,000. The state's Xinhua News Agency said nearly 19,000 people were still buried in debris in and around Mianyang, a city about 60 miles east of the epicenter.
Thousands are feared to have been buried under factories, schools and other buildings that collapsed in Monday's magnitude 7.9 quake.
On Tuesday, fears increased that few survivors would be found under the rubble. Only 58 people have been rescued from demolished buildings across the quake area, China Seismological Bureau spokesman Zhang Hongwei told Xinhua. In one county, 80 percent of the buildings were destroyed.
Some 20,000 soldiers and police arrived at the disaster area to help with the relief effort, and 30,000 more were on the way, the Defense Ministry told Xinhua.
Impassable or debris-strewn roads hampered the Chinese army and other relief workers.
"What you have on the road that leads out through this area, and other roads, I believe, is you have rock slides," said NPR's Robert Siegel. "The roads are cut into mountains, and the earthquake shook loose rocks, in some cases, huge boulders the size of SUVs. And in other cases, entire mountainsides seemed to collapse on villages."
In Wenchuan county, soldiers hiked past blocked roads to reach the town of Yinxiu, near the epicenter. Of its 9,000 residents, only 2,300 were found, the state TV quoted local emergency official He Biao as saying.
The scene was grim throughout the quake zone. Rescue teams brought people evacuated from the hard-hit town of Beichuan to Mianyang's sports stadium for food and shelter. Outside the railway station, police shouted in megaphones, telling people where they could get free rice porridge.
Television footage of Beichuan showed few buildings standing amid piles of rubble in a narrow valley.
Meanwhile, White House spokeswoman Dana Perino said the United States would contribute $500,000 — and more, if requested — to help initial recovery efforts.
She said President Bush offered condolences in a telephone conversation with Chinese President Hu Jintao.
From NPR and wire reports