Teens Solo with the Buffalo Philharmonic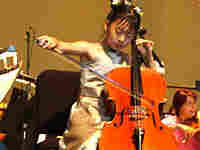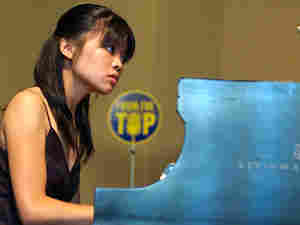 This week from Lewiston, N.Y., four outstanding teen musicians solo with the Buffalo Philharmonic in concerto movements by Wieniawski, Haydn, Poulenc and Mozart – all under the baton of the orchestra's music director, JoAnn Falletta.
Eighteen-year-old Stephanie Chen has a passion for the piano. When she was a little girl, she loved to hear her sister play and it wasn't long before her mom found little Stephanie at the keyboard, picking out the notes to her favorite Chinese folk tune.
Chen's other passion is medicine. "I went to a medical camp last summer in Houston where we shadowed physicians, saw surgery, and debated ethics," she says. "We even practiced surgery on bananas!"
Next year Chen heads to Juilliard for music while attending Columbia University for pre-med classes. She teams up with host Christopher O'Riley to play the slow movement from Francis Poulenc's Concerto for Two Pianos.
Alexander Boissonnault, 18, was virtually destined to play violin.
"My mom was a Suzuki teacher, and as soon as I was born she started playing recordings of violinists for me," he says. "She started teaching me when I was three."
Boissonnault is now the concertmaster of the Greater Buffalo Youth Orchestra. One of his favorite experiences was to sit next to the Buffalo Philharmonic's Assistant Concertmaster in a joint concert of the Philharmonic and the Youth Orchestra. There he got a taste of what it was like to play side-by-side with a professional orchestra player.
Now the young violinist gets a taste of what it feels like to solo with a professional orchestra, as he plays the finale from Henryk Wieniawski's Violin Concerto No. 2.
Eleven-year-old cellist Sarina Zhang first performed on From the Top's radio show when she was eight years old — as a pianist. It was a milestone year for her.
"Before I turned eight I couldn't reach the piano pedals!" she explains.
A short time later, Zhang picked up the cello too. "At first, it was just a hobby so I could play with an orchestra like my brother," she says.
Before long though, Zhang started to love the cello, and now she is accomplished on both instruments. She plays the finale from the Cello Concerto No. 1 by Joseph Haydn.
Noah Brown studies bassoon at the Interlochen Arts Academy in Michigan. Brown first performed on From the Top's radio show as a member of Mostly Winds, a 12-member student ensemble from Interlochen.
Two years later Brown returns to the show as a soloist with the Buffalo Philharmonic, to perform the first movement of Mozart's Bassoon Concerto in B-flat major.
This show originally aired October 10, 2007.