Chinese Quake Survivors Cope in Gui Xi
The mountain village of Gui Xi in Sichuan province is one of many Chinese communities coping with the aftermath of Monday's powerful earthquake. Survivors huddled under tarps Tuesday in a steady rain, telling their stories.
NOAH ADAMS, Host:
And in China, rain is falling in Sichuan province, falling on thousands of people camped along roads or in makeshift shelters. The Chinese estimate the death toll from yesterday's earthquake at 12,000. There are fears that tens of thousand more are buried under collapsed buildings. And today, the rain blocked efforts to find survivors.
NORRIS, Host:
Our co-hosts, Robert Siegel and Melissa Block, are in Chengdu, that's Sichuan's capital city. When the earthquake hit, they were prepping for a long- planned series of stories from China. Today, Robert drove towards some of the hardest-hit areas, into the mountains northeast of Chengdu.
(SOUNDBITE OF TRUCK HORN)
ROBERT SIEGEL: The rockslides not only killed and destroyed, they have hindered relief by blocking portions of the road farther north. It rained all day today, and that didn't help either. The villages you pass through on this road are heartbreaking. Gui Xi straddles a river on either side of a picturesque foot bridge. Mr. Shu(ph) is the village leader.
(SOUNDBITE OF AN AMBULANCE)
SIEGEL: What's the situation here?
ADAMS: (Through translator) Our village is but - of houses that collapsed, were about 90 percent and with roads, with rockslides, and damage is very extensive.
SIEGEL: Were many lives lost during the earthquake?
ADAMS: (Through translator) Yes, unfortunately. Just in our township, the initial estimation is about 200 to 300 - 300 people lost their lives.
SIEGEL: We've seen evidence of the rockslides all along this road. Has it been the rocks coming down from the mountain that have done much of the damage?
ADAMS: (Through translator) The rockslide is a part of the problem. But the worst of all, the entire side of mountain just collapsed, they come down.
SIEGEL: Do people here have water, food, medical attention?
ADAMS: (Through translator) We need it badly. We need food. We need water. We need medical equipment, we need tents. And that's what we really need now.
SIEGEL: What's the future of the village at this point?
ADAMS: (Through translator) We believe in rebuilding this place again. We believe in our government, we believe in our party and our people, and we will rebuild our home.
SIEGEL: Is your family all right?
ADAMS: (Through translator) As far as I know, they're all buried under the mountain.
SIEGEL: I'm so sorry. Thank you very much, sir.
(SOUNDBITE OF PEOPLE SHOUTING)
SIEGEL: Mr. Shu fought back tears when he told us about his own family, and he didn't completely succeed. In the center of the town near the traffic police headquarters, we found just crowds of people who've camped out here. They no longer have homes, and they've camped out along a bend in the road. And also a group of families with children is waiting for a truck or a bus to take them out of here. They're trying to get out of this area which has been so hard hit by the earthquake.
(SOUNDBITE OF TRAFFIC)
SIEGEL: Shri Shao Ping(ph) is a doctor from this village. She's treating people. I asked her how many.
ADAMS: (Through translator) Countless. From last night it's nonstop. I stay up all night. One after another. One after another.
SIEGEL: What kinds of injuries are you treating?
ADAMS: (Through translator) They were hit by rocks - and broken bones.
SIEGEL: And is there enough equipment here, medicine and bandages, to take care of people?
ADAMS: (Through translator) Not enough right now. The supply chain is not enough, and we can only use the IVs for that most injured ones. With the lightly injured, we just gave them some pills.
SIEGEL: We walked up from the first-aid station, up the road cut into the mountains, still farther up toward the avalanche that Mr. Shu, the village chairman, spoke of, and all along you find people who are in shelters. The rain has picked up now quite a bit and a typical shelter - some bamboo rods stretched through the trees with plastic curtains, large plastic sheets draped over them to create some enclosure. And that was where we asked Wang Ching(ph), a woman with a 1-year-old baby and her entire extended family inside a shelter, how long she's been there.
ADAMS: (Through translator) We walked here this morning. We arrived here this morning. All of us, we walked here and our children have nothing to eat.
SIEGEL: How far did you walk? How far away is your village?
ADAMS: (Through translator) About 35 kilometers. Our village is completely flattened, completely flattened.
SIEGEL: And where do you hope to go now?
ADAMS: (Through translator) Nobody is here to help us. The soldiers were here earlier. They only carried away the injured ones. We're - we are - we're just left here. No one asked about us. No one is taking care of us. We have relatives, some in the safer areas. We just don't know how to get there.
SIEGEL: I hope you are taken there soon. I'm sure someone will come.
ADAMS: (Through translator) We don't know if anybody is going to come here and save us. We don't know.
(SOUNDBITE OF CROWD)
SIEGEL: Besides stories like that, the plight of a woman we met on our drive back to the city sounds minor, and she's the first to say so. Mrs. Bien(ph) has a house facing the highway to Chengdu in the town of Jiangyo(ph). She's now living in a makeshift tent between the house and the highway. Her story is less heartrending, but it is one measure of the task facing China once the life-and- death cases are seen to.
ADAMS: (Speaking in Chinese)
SIEGEL: Like hundreds of houses here, the roofing tiles were shaken loose from hers by the quake, and they lie on the ground now. Her pavement is cracked, so are some of the walls.
ADAMS: (Speaking in Chinese)
SIEGEL: How will you get the house fixed?
ADAMS: (Through translator) We don't know how we can afford to repair this. This was a brand new house. We spent a lot of money with it - it is brand new. It's only two years - two and a half years ago we built this house.
SIEGEL: This is Robert Siegel, NPR News, Chengdu, Sichuan Province, China.
NPR transcripts are created on a rush deadline by Verb8tm, Inc., an NPR contractor, and produced using a proprietary transcription process developed with NPR. This text may not be in its final form and may be updated or revised in the future. Accuracy and availability may vary. The authoritative record of NPR's programming is the audio record.
Sichuan Quake Claims 12,000; Rescuers Scrambling
Robert Siegel with survivors in Gui Xi
Melissa Block describes scenes on the road
Witnessing a Quake
Melissa Block was in the process of recording an interview in Chengdu when Monday's earthquake hit. She fled the building and then reported on the scene.
More reports from the scene in Sichuan province:
In Depth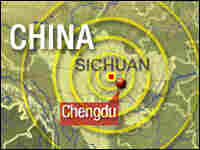 The death toll from a massive earthquake in China's Sichuan province was expected to soar Tuesday, as rescue workers scrambled to find survivors buried beneath rubble and debris.
The official death toll already has surpassed 12,000. The state's Xinhua News Agency said nearly 19,000 people were still buried in debris in and around Mianyang, a city about 60 miles east of the epicenter.
Thousands are feared to have been buried under factories, schools and other buildings that collapsed in Monday's magnitude 7.9 quake.
On Tuesday, fears increased that few survivors would be found under the rubble. Only 58 people have been rescued from demolished buildings across the quake area, China Seismological Bureau spokesman Zhang Hongwei told Xinhua. In one county, 80 percent of the buildings were destroyed.
Some 20,000 soldiers and police arrived at the disaster area to help with the relief effort, and 30,000 more were on the way, the Defense Ministry told Xinhua.
Impassable or debris-strewn roads hampered the Chinese army and other relief workers.
"What you have on the road that leads out through this area, and other roads, I believe, is you have rock slides," said NPR's Robert Siegel. "The roads are cut into mountains, and the earthquake shook loose rocks, in some cases, huge boulders the size of SUVs. And in other cases, entire mountainsides seemed to collapse on villages."
In Wenchuan county, soldiers hiked past blocked roads to reach the town of Yinxiu, near the epicenter. Of its 9,000 residents, only 2,300 were found, the state TV quoted local emergency official He Biao as saying.
The scene was grim throughout the quake zone. Rescue teams brought people evacuated from the hard-hit town of Beichuan to Mianyang's sports stadium for food and shelter. Outside the railway station, police shouted in megaphones, telling people where they could get free rice porridge.
Television footage of Beichuan showed few buildings standing amid piles of rubble in a narrow valley.
Meanwhile, White House spokeswoman Dana Perino said the United States would contribute $500,000 — and more, if requested — to help initial recovery efforts.
She said President Bush offered condolences in a telephone conversation with Chinese President Hu Jintao.
From NPR and wire reports