Letters: China Earthquake Coverage
Listeners respond to coverage of the catastrophe in China.
MICHELE NORRIS, Host:
We now turn to your comments about yesterday's program, and a large majority of our mail came in response to our reports by Robert Siegel and Melissa Block from the scene of the earthquake in China.
NOAH ADAMS, Host:
We were inundated with e-mail about Melissa Block's first-hand stories. This came from Abbey Woodbrich(ph) of Unalaska, Alaska.
NORRIS: It was the most compassionate and beautifully worded report I think I have ever heard, and I have listened daily to NPR since its inception. She continues, live radio reporting hardly ever paints as vivid a picture as what we just heard from her. Her report stopped me in my tracks, and I had to stop working for a while as I thought of the children's pain and the anguish of all the parents.
ADAMS: And Kate Shehan(ph) of Culver City, California, sent this. Hearing Melissa's poignant reaction immediately after witnessing children's bodies being removed from the rubble of the middle school and then hearing her well- constructed and eloquent report a few hours later made her talent as a journalist quite clear.
NORRIS: Brian Tristan Williams(ph) wrote to us from Johannesburg, South Africa. He also complimented our coverage but said he found one detail on the report on a collapsed middle school a little sensational. While I empathize with the emotions expressed, it may be going a bit far to refer to these students as babies.
ADAMS: Finally, Anne Kirkpatrick(ph) of Greencastle, Indiana, sent her wishes to out co-hosts in China. Thank you, Robert and Melissa and be careful, okay?
NORRIS: And we second that. For photos and more eyewitness accounts from Sichuan Province in China, you can go to our blog, npr.org/chinadiary.
ADAMS: And as always, we want to know what you think of the stories you hear on our program. For that, you can go to npr.org/contact.
NORRIS: And please, don't forget to let us know where you're from and how to pronounce your name.
NPR transcripts are created on a rush deadline by Verb8tm, Inc., an NPR contractor, and produced using a proprietary transcription process developed with NPR. This text may not be in its final form and may be updated or revised in the future. Accuracy and availability may vary. The authoritative record of NPR's programming is the audio record.
Sichuan Quake Claims 12,000; Rescuers Scrambling
Robert Siegel with survivors in Gui Xi
Melissa Block describes scenes on the road
Witnessing a Quake
Melissa Block was in the process of recording an interview in Chengdu when Monday's earthquake hit. She fled the building and then reported on the scene.
More reports from the scene in Sichuan province:
In Depth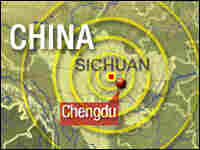 The death toll from a massive earthquake in China's Sichuan province was expected to soar Tuesday, as rescue workers scrambled to find survivors buried beneath rubble and debris.
The official death toll already has surpassed 12,000. The state's Xinhua News Agency said nearly 19,000 people were still buried in debris in and around Mianyang, a city about 60 miles east of the epicenter.
Thousands are feared to have been buried under factories, schools and other buildings that collapsed in Monday's magnitude 7.9 quake.
On Tuesday, fears increased that few survivors would be found under the rubble. Only 58 people have been rescued from demolished buildings across the quake area, China Seismological Bureau spokesman Zhang Hongwei told Xinhua. In one county, 80 percent of the buildings were destroyed.
Some 20,000 soldiers and police arrived at the disaster area to help with the relief effort, and 30,000 more were on the way, the Defense Ministry told Xinhua.
Impassable or debris-strewn roads hampered the Chinese army and other relief workers.
"What you have on the road that leads out through this area, and other roads, I believe, is you have rock slides," said NPR's Robert Siegel. "The roads are cut into mountains, and the earthquake shook loose rocks, in some cases, huge boulders the size of SUVs. And in other cases, entire mountainsides seemed to collapse on villages."
In Wenchuan county, soldiers hiked past blocked roads to reach the town of Yinxiu, near the epicenter. Of its 9,000 residents, only 2,300 were found, the state TV quoted local emergency official He Biao as saying.
The scene was grim throughout the quake zone. Rescue teams brought people evacuated from the hard-hit town of Beichuan to Mianyang's sports stadium for food and shelter. Outside the railway station, police shouted in megaphones, telling people where they could get free rice porridge.
Television footage of Beichuan showed few buildings standing amid piles of rubble in a narrow valley.
Meanwhile, White House spokeswoman Dana Perino said the United States would contribute $500,000 — and more, if requested — to help initial recovery efforts.
She said President Bush offered condolences in a telephone conversation with Chinese President Hu Jintao.
From NPR and wire reports