Internment Camp Survivor Gets Honorary Degree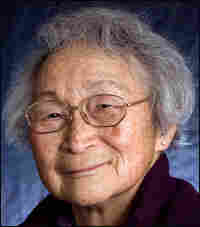 Mary Levin/University of Washington
University of Washington 1942 Tyee
Minidoka Internment Camp
Read the history of the Minidoka Internment Camp in Idaho, where Inouye was sent in 1942. Inouye stayed until the end of 1943, when she moved away from the coast and transferred to the University of Texas' pre-med program.
On Feb. 19, 1942, President Franklin D. Roosevelt sent down an executive order that all Americans with even as much as one-sixteenth of Japanese blood be evacuated from the coastal areas of the United States and placed in internment camps.
It was World War II — two months after the Japanese attacked Pearl Harbor — and the internments were considered a matter of national security.
In the state of Washington, the relocation forced about 440 students with Japanese heritage to interrupt their education at the University of Washington. Many never returned to finish their studies.
On Sunday, the university will present all of those former students with honorary degrees at its Seattle campus.
One of those students, 87-year-old Ruby Inouye, says she's grateful that the university leaders "feel some obligation to the students," even though it's 66 years later.
Inouye was a 21-year-old pre-med student when Executive Order 9066 came down. It banned Japanese-Americans and resident aliens from living within 50 to 60 miles of the coast.
After attack on the Pearl Harbor, Inouye tells Noah Adams, she and her fellow Japanese-American classmates were trying to be discreet and were "hiding away" on campus.
"We were embarrassed that Japan would have the nerve to attack America," Inouye says. "And the other students were looking at us as though were a part of the enemy, so we didn't know how to feel because we were Americans, and yet we had the Japanese face. So we tried to just go to classes and go home as soon as possible."
When Inouye was told that she would be one of the 110,000 people who were being sent to an internment camp, she says she and all of her classmates were surprised.
Herded to Camp
Inouye was first sent to a temporary camp at Puyallup fairgrounds outside Seattle. A few months later, she and her four younger siblings and parents were put on a train to the Minidoka internment camp in Idaho. Inouye's older sister, who was a senior in college at the time, received a diploma from a university official. The sister had what Inouye calls a "hurry-up wedding" to avoid being separated from her boyfriend; the couple lived in a separate part of the camp.
At the time, Inouye says, she wasn't socially conscious enough to be angry with the government about her forced internment. She was angrier about feeling like an outsider.
"In those days, we didn't have that mindset of rebelling," Inouye says. "We were very obedient with family values and sticking together. Mainly, we were incensed that we, as Americans, were treated as Japanese aliens ... as though we were enemies and we were growing horns and claws and stuff like that."
One of the First Female Physicians
At the end of 1943, Inouye was able to transfer to the University of Texas, where she received her pre-med degree. She earned her medical degree from the former Women's Medical College of Pennsylvania in Philadelphia. Years later, she moved back to Washington and opened a successful medical practice. She says she was "maybe the first Japanese-American woman physician."
In 1976 — more than 30 years after Roosevelt issued the order to intern Japanese-Americans — President Gerald Ford rescinded it. In the 1980s, President Ronald Reagan issued a national apology and agreed to disburse $1.6 billion in reparations to the internees or their families.
As for the University of Washington event, it will be Inouye's third degree from a university. She says the sad thing is that many of those who would benefit the most from the delayed recognition — her University of Washington classmates who never received any degree — have either died or are disabled.
"I know that several of my friends — they have died," Inouye says. "I just feel sorry that they won't be here to attend this occasion."