A New Face of Judaism in a Southern Illinois Town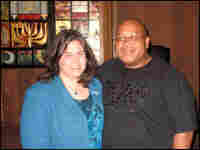 Slightly more than 2 percent of U.S. residents describe themselves as Jewish, and the numbers are vastly smaller for Jews who are black. But more than 50 people in a small town near the southern tip of Illinois have changed the equation somewhat by converting to Judaism.
Driving through economically depressed Cairo, once a major shipping port, the source of inspiration isn't readily apparent. There are numerous churches for the 3,600 predominantly black residents, but the single Jewish synagogue long ago morphed into a public health center.
"You see the stained glass is still there," former police officer Phillip Matthews says, pointing at the building.
Matthews, now a computer technician, is the major force behind the group's conversion in December. One of 18 children, he was raised Baptist but says he's the descendant of an Ethiopian Jew. An accomplished pianist, he quit playing at church services long ago and turned his attention to studying Jewish scripture and culture.
"I'm not saying I hate Christianity and I hate Christians, because I came from that" background, Matthews explains after prayers for Shabbat, the Jewish Sabbath. "What I'm saying is there's a better way."
His mother's home — the weekly gathering place when they can't travel to their synagogue — was filled to capacity with recent converts. Fifty-five of the regular attendees — 44 adults and 11 children, all African American — are now Jews.
The Challenges of Conversion
Matthews had been studying Judaism for years with friends and family members. Two years ago, he decided to take his faith to the next level, and he contacted Lynn Goldstein, a Reform rabbi from St. Louis who also leads the Beth Jacob synagogue in Carbondale. It's about an hour from Cairo.
Goldstein says she didn't find out until later that more than 50 people wanted to convert. The group would eventually double her synagogue's membership.
"It was kind of astounding," she says, "but by that point I really knew people in the group and was not concerned about their intentions and that it was not some kind of weird, flaky thing."
The conversion process involved both a spiritual and literal journey. In addition to attending services at Beth Jacob, Cairo residents traveled to St. Louis every week for classes with Goldstein. There were also field trips and lectures.
Keeping faithfully to the schedule caused some people to lose their jobs. But their commitment stayed strong, Goldstein says, and they became Jews during a ritual ceremony at a Memphis synagogue in December.
Redefining the Jewish Sound
Matthews has turned his musical talents toward composing and rearranging Jewish songs and Hebrew prayers. He bristles when his creations are called "gospellike," explaining that the music is a bridge that has helped these new Jews learn the language of their faith — a faith he hopes improves his town.
"I'm not saying Judaism is going to give Cairo a new high," he says. "Judaism is going to give people a chance to look at something different."
Late last year, Matthews and a few of the other Cairo Jews traveled to Israel. More conversion candidates eagerly awaited their return.