Higher Prices Mean Slimmer Profits for Gas Stations
Higher Prices Mean Slimmer Profits for Gas Stations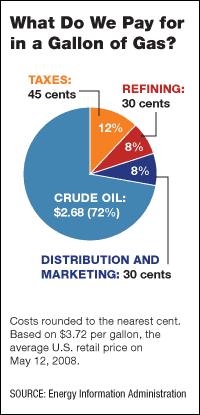 Everyone is paying more for gas, but not everyone in the gasoline business is making money off of soaring prices.
The cost of doing business has gone up for gas station owners. But the amount they make per gallon stays fixed.
A&M Shell, a gas station in Tucson, Ariz., owned by Arnold Mendez Jr. and his family, makes about 16 cents in profit for every gallon of gas sold. But that's before the station pays credit card companies for transaction fees. Those fees, which are based on the dollar amount of gas sold, translate to about 2 percent of each sale, says Mendez. So the more gas costs, the more the station pays in credit card fees.
These days, that means the Mendez family hands over about 7 cents per gallon of regular unleaded to credit card companies.
"So we're left then with 9 cents per gallon" in profit, Mendez says.
Nationwide, local service station owners get between 3 cents and 15 cents of every gallon of gas sold, according to the Petroleum Marketers Association.
The federal Energy Information Administration says retailers and wholesalers account for about 8 percent of the total cost of gasoline. Refiners get another 8 percent. And taxes eat up 12 percent. The remaining 72 percent goes to crude oil producers — countries like Saudi Arabia and companies like Exxon.
Encouraging Credit Cards
These days, the majority of people pay for gas by using their credit cards. Oil companies have encouraged this payment behavior by installing pay-at-the-pump devices.
Oil companies got out of the business of owning stations years ago, when they realized there was little profit. Today, most gas stations are independent. And to stay afloat, they have turned to selling other goods and services.
"If it weren't for the back shop, we wouldn't be in existence," Mendez says, pointing to the garage where his station performs a variety of mechanical repairs.
His father — Arnold Mendez Sr., who is 74 — opened the station in 1965, shortly after he immigrated from Cuba. He survived the oil crisis of the 1970s. And he learned he couldn't make it just selling gas.
Most station owners make their profit running convenience stores. "They sell Twinkies, beer and cigarettes, which I refuse to do," the elder Mendez says as he pulls a nail from a flat tire and patches the hole.
A $60,000 or More Weekly Tab
Arnold Mendez Sr. enjoys fixing cars. And running a convenience store is too much trouble, he says. He'd need to worry about inventory, security and employees. The Mendez family has enough to worry about, because every time the tanker truck pulls in to fill the station's tanks – at least twice a week – it costs around $30,000.
The Mendezes say Shell takes that money directly from their bank account every 10 days. A&M Shell expects to weather the storm because it has little debt — the senior Mendez paid off his mortgage on the gas station.
But in this economy — with reduced margins for service station owners — Arnold Mendez Jr. expects to see stations with cash flow problems go under unless they can sell enough Twinkies, beer and cigarettes to make up for it.