English-Arabic Public School Faces Harsh Critics
Listen to this 'Talk of the Nation' topic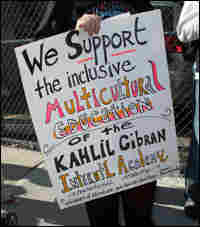 Watch a Video
The Khalil Gibran International Academy in Brooklyn, New York — an English-Arabic public school — provoked controversy before it even opened.
Critics described it as a madrassa headed by a radical Islamist hoping to proselytize to her students. Supporters saw the project as an educational environment for children of diverse backgrounds to learn Arabic language and culture and go onto to college as ambassadors of peace.
Debbie Almontaser, the principal and founder, resigned before the school year began, but the idea of Arabic public schools continues to generate debate. Critics say that Arabic public schools will inevitably teach Islam, in violation of the Constitution. Supporters counter that Arabic schools should be viewed no differently than schools that specialize in Spanish or Chinese.
Guests:
Andrea Elliott, reporter for The New York Times, author of "Critics Cost Muslim Educator Her Dream School"
Daniel Pipes, director of the Middle East Forum; critic of the Khalil Gibran International Academy
Debbie Almontaser, founder and former principal of the Khalil Gibran International Academy