Diner Serves Up Photo Ops, Food to Candidates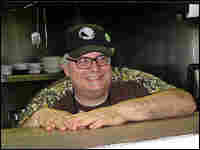 If you go to Milford, N.H., and feel brave, you just might order the Milford Cow Pie at the River House Café, a cozy diner perched above the Souhegan River right in the center of town. You'll end up feasting on a burger settled on a pile of mashed potatoes, topped with cheese, onion rings and lots of gravy - $6.95 for the works.
But a presidential candidate rolling through Milford — and looking for a perfect small-town photo op — might order more judiciously. After all, who wants to face that inevitable cow pie headline?
In Howard Dean's case, he went for the blueberry pancakes. The cook at the River House Café, Charles Burke, told me that Heidi, the weekend waitress, offered Dean maple syrup from New Hampshire.
"But he was only interested in it if it were from Vermont. So that kinda told us that Mr. Dean may not do as well as what he had hoped," Burke said.
The café does have a copy of a photograph of Dean sitting in the restaurant and smiling, but it is nowhere on display. Burke had to reach up to a high shelf in the sweltering kitchen and paw through a stack of clutter before he found it to show us.
Burke told me that George W. Bush was good company when he stopped in during the 2000 campaign.
"Mr. Bush was absolutely hilarious," Burke said. "And if anybody ever wanted to go to a party, you'd take him because he's really an amusing individual. You know, people do have their likes and dislikes based on him, but from what we saw, he was a lot of fun. We enjoyed him."
There used to be a sticker marking the corner stool where Bush sat, but patrons pulled it off.
"We've replaced it a few times, because that's where he sat. And people continue to take it off, and that's the way it is," Burke said.
A few seats down, there is a sticker on a stool that reads "GORE SET HERE." No one has bothered taking that one off. Burke said he doesn't think anyone really notices it.
Here's the story about the day Al Gore came to town. In January 2000, Gore's entourage came into the café about 15 minutes ahead of the then-vice president and politely informed them that Mr. Gore would be having the lamb.
Trouble is, the River House Café doesn't serve lamb. It's a diner. You want a tuna melt? They'll make you a dandy tuna melt. You want split pea soup? You'll love the split pea soup.
But if you're the vice president, you order something that isn't on the menu. And you send the café staff running to a nearby Greek restaurant to lay in a supply of lamb — which they did.
Now, I'm not saying there is a connection. But that November, Al Gore lost the Milford vote to George W. Bush.