Gina and Pat Neely: BBQ Royalty Turned TV Stars
Gina and Pat Neely: BBQ Royalty Turned TV Stars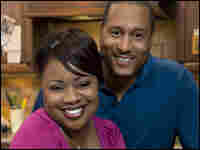 As co-owners of Neely's Bar-B-Que, Patrick and Gina Neely have turned their family restaurant into one of the most successful barbeque restaurants in the South.
That distinction helped them land their own show on Food Network, Down Home With the Neelys.
Farai Chideya talks with the Neelys about food, family and marriage.
Memphis-Style Hickory-Smoked Beef and Pork Ribs
Recipe courtesy The Neelys
2 (about 3 pounds each) slabs pork spareribs
2 (about 4 pounds each) slabs beef spareribs
2 cups Neely's BBQ Dry Rub, recipe follows
Neely's BBQ sauce, recipe follows
Rinse and dry ribs. Place on a clean cutting board and pull off the membrane, the thin fatty skin that lines the underside of the ribs. Trim the ribs of excess fat and meat. Liberally season both sides of the ribs with 1/4 to 1/2 cup Neely's BBQ Dry Rub. Wrap ribs and refrigerate for at least 8 hours so flavors can permeate.
Preheat grill to 250 degrees F. using hickory and charcoal. Use indirect heat (push the coals to one side of the grill).
Place ribs meatier side down on the grill away from the flame. Cook the pork ribs 3 hours. Turn and cook another hour, or until ribs bend. Remove from grill.
Cook beef 2 hours. Turn and cook for 45 minutes more, or until the ribs "bend" and the meat easily separates from the bone using a fork.
For dry ribs: Sprinkle extra Neely's BBQ Dry Rub over ribs, cut between bones and serve.
For wet ribs: Coat ribs with Neely's BBQ Sauce, cut and serve.
Yield: 4 to 6 servings
Prep Time: 10 minutes
Cook Time: 6 hours, 15 minutes
Inactive Prep Time: 8 hours
Ease of preparation: easy
Dry Rub:
1 1/2 cups paprika
3/4 cup sugar
3 3/4 tablespoons onion powder
All ingredients to a bowl and stir until combined.
Yield: about 2 cups
Neely's BBQ Sauce:
2 cups ketchup
1 cup water
1/2 cup apple cider vinegar
5 tablespoons light brown sugar
5 tablespoons sugar
1/2 tablespoon freshly ground black pepper
1/2 tablespoon onion powder
1/2 tablespoon ground mustard
1 tablespoon lemon juice
1 tablespoon Worcestershire sauce
In a large saucepan, combine all ingredients. Bring mixture to a boil, reduce heat to simmer. Cooked uncovered, stirring frequently, for 1 hour 15 minutes.
Yield: 3 1/2 cups