China Adds Counseling to Earthquake Relief Efforts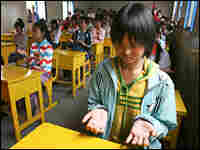 China is mounting its largest-ever counseling operation for survivors of last week's massive earthquake. It's unprecedented in a country where mental health problems are generally seen as a source of shame. Experts say the psychological damage from the quake is extensive and could be long-lasting.
One letter to the newspaper said it all: "Since the earthquake, I can't put my cell phone on vibrate mode. Even the vibration of the phone sends me into a state of panic."
Many may be going about their daily business. But such hypersensitivity is not unusual in a traumatized population, according to Dr. Sun Xueli, head of the mental health center at West China Hospital. He's helping coordinate the psychological relief effort; he says millions of people need help.
"Generally speaking, when people suffer such a serious earthquake, then everybody has suffered some psychological trauma," Sun says. "Most people are suffering from varying levels of anxiety, and everybody requires some sort of psychological intervention. That's for sure."
Counselors Deployed
Sun briefs a group of trained psychological workers about trauma. He's already sent out 50 counselors. But many, many more are needed ... and fast.
The massive quake and the constant aftershocks have exacted their toll on city residents, even though many haven't personally suffered any losses.
In the tent cities, helicopters drone overhead while people wash their clothes at an outside tap. With such a huge relief operation under way, it feels more like a war zone.
For many people living here, in a stroke, life as they knew it has changed forever. Many are only now beginning to understand their losses. Li Jiashu sits in the corner of a 130-square-foot tent that he shares with 16 other family members. One simple question — "How are you feeling?" — causes this elderly man to break down.
"Now we have no home to go," he says, as the tears trickle down behind his glasses.
His wife, Gao Zhongzhi, says, "Our house and belongings were worth tens of thousands of dollars."
Feelings of Helplessness
There's nothing to do in the camps, and that intensifies their feelings of helplessness and desperation. Some of the displaced can't sleep at night. Others can't eat.
Deng Qinglan and Deng Qingchuan say many children died in their school. The sisters are chatting cheerfully as they sit on a bamboo mat in an immense open-sided shed housing those left homeless.
Some students lost arms, some lost legs, one sister says, giggling.
Dr. Sun says this state of denial is another common response, which could turn into a real problem if it isn't treated soon.
"She's in a state of denial," he says. "She's making light of a very serious thing. In the short term, it's a coping mechanism for blocking out fear. But at a certain stage, she needs to peel off the scab, to face the reality that she dealt with a life-threatening crisis."
The Youngest Victims
His hospital has organized counseling for some of those for whom the damage might be most long-lasting: children injured in the quake, many of whom were buried when their schools collapsed.
A counselor first briefs their parents. It's a circus, with numerous journalists covering the event, including a Chinese radio station broadcasting the entire session live.
Then the children are carried in. Most have broken limbs, and many have suffered cuts and bruises on their faces. They play a game where they imagine which animal they'd like to be. Then they're told to draw pictures of things that make them happy.
"I'm drawing my home and my school," says one little girl, reaching for a blue crayon with her twig-thin arm. The other arm is in a sling.
Both her house and her school are gone forever. She was buried in the rubble of her school for six hours before being rescued. Her best friends are still missing.
Suddenly, it's all too much for one little girl in a pink dress who lost a hand. As she shrieks in fear and kicks out at those around her, the cameras swing round to frame their close-ups.
For those who have suffered so much already, the worst could be yet to come.