American Cutting Flights, Adding Baggage Charge
The soaring price of oil is hitting the airline industry. American Airlines announced Wednesday that it would eliminate about 12 percent of its flights by the end of the year and added a $15 surcharge for each checked bag.
RENEE MONTAGNE, host:
NPR's business news starts with more cutbacks in the airline industry.
As the price of oil keeps rising - it's now more than $135 a barrel - American Airlines has announced its biggest cuts in service since 9/11. It's also adding a new baggage fee.
NPR's Scott Horsley reports.
SCOTT HORSLEY: American Airlines' CEO says the industry wasn't built to withstand oil prices that are this high. Eight other airlines have already filed for bankruptcy this year, and five have quit flying altogether.
David Castelveter of the Air Transport Association says airline fuel prices have more than tripled since the year 2000, while airline ticket prices have barely budged.
Mr. DAVID CASTELVETER (Air Transport Association): Every time we see the price of fuel go up a dollar, this industry absorbs about $465 million in additional expenses.
HORSLEY: American is hoping to recoup part of its additional fuel cost with a new surcharge of $15 for a checked bag. The charge goes into effect with tickets purchased starting June 15. Castelveter says this kind of charge is a way for airlines to raise revenue without having to raise overall fares.
Mr. CASTELVETER: The customers have said if I don't want a meal, don't charge me for it. If I don't travel with checked luggage, don't charge me for it. So the carriers have stripped away a lot of those services and now they're charging you for it.
HORSLEY: Some air travelers may prefer this ala carte pricing, but not Mark Standbower(ph), who was getting off an American Airlines flight in Chicago yesterday. He thinks the extra charge on checked suitcases could backfire.
Mr. MARK STANDBOWER (Passenger): It's going to mean more stuff that goes into the plane, people jamming bags up top. One bag checked is actually good for the plane, rather than having people carry everything on and filing up the overhead space.
HORSLEY: And it's not just the overhead bins that are getting more crowded. American is planning to eliminate about 11 percent of its daily flights beginning in October. The Air Transport Association's Castelveter says the announcement of the cutback comes at a time when planes are already flying about 85 percent full.
Mr. CASTELVETER: You know, especially in key markets, heavily traveled, popular markets. Going in and out of Florida, for example, you know, often times you'll find every seat on every airplane full.
HORSLEY: By eliminating flights and parking up to 85 planes, American expects to save on fuel and labor costs.
As planes get more crowded, the airline industry as a whole will be in a better position to raise ticket prices. That's not good news for the corporate travelers that Bill Connors represents with the National Business Travel Association, but he acknowledges airlines don't have much choice.
Mr. BILL CONNORS (National Business Travel Association): They've cut costs everywhere they could cut, and it still hasn't paid off for them because of the oil situation. So yeah, we are very aware that there are going to be some pricing implications over the next few months as long as oil stays where it's at.
HORSLEY: Connors notes that even as they scale back on domestic service, airlines are not scrapping the international routes that are in growing demand with business travelers.
Mr. CONNORS: Big corporations, to be competitive they need to be in places like Brazil and China and India. They need to be in the emerging markets. So we don't think that travel is going to decline, and that's what I think the airlines are betting on too.
HORSLEY: It's those emerging markets and their growing demand for oil that's helping to keep the cost of jet fuel sky high.
Scott Horsley, NPR News.
NPR transcripts are created on a rush deadline by Verb8tm, Inc., an NPR contractor, and produced using a proprietary transcription process developed with NPR. This text may not be in its final form and may be updated or revised in the future. Accuracy and availability may vary. The authoritative record of NPR's programming is the audio record.
Ode to the Second Checked Bag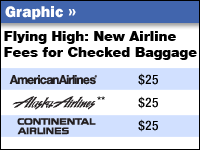 It's time for air travelers to say goodbye to the beloved second bag for extra jackets and shoes, hiking boots and beach towels. And for sports enthusiasts, it's time to wrap some extra cash around those golf clubs and skis to pay for their passage.
Most U.S. carriers began charging $25 this week for coach passengers who want to check a second bag on domestic flights — breaking from a longstanding policy of allowing two checked bags for free.
There are exceptions to the rule, mainly for first- and business-class passengers and for those with certain types of mileage rewards. And some airlines will waive the policy and the fee for international travel.
Each bag must weigh less than 50 pounds, and its dimensions (length plus width plus depth) must be less than 62 inches. For those who might consider beating the system, let's face it — there is no easy way to disguise a second checked bag as a carry-on or as your one "personal item." And because the change comes on the cusp of the summer travel season, donning extra layers in lieu of a second checked bag might get pretty uncomfortable.
But so is the prospect of forking over extra cash. In fact, six U.S. airlines also are raising the cost of checking a third bag to a whopping $100.
If those prices don't make you cringe, why not go all out and splurge for an extra seat like some cellists do for their priceless instruments? A few hours of quality time with your duffel in coach could also buy you elbow room — if you book the middle seat for your overstuffed companion.
For many faint-of-wallet travelers, however, the new charges are an unwelcome addition to fuel surcharges that are already factored into some ticket prices and reports of airline baggage unreliability.
Unclear How Flyers Will React
"The idea of having to pay for their bags when so many bags are lost or delayed is a huge problem," says Kate Hanni, executive director of the Coalition for an Airline Passengers' Bill of Rights. She says she hopes that any passenger bill of rights would eventually contain a baggage clause that would impose a civil penalty on airlines if they fail to reunite travelers with their baggage within 24 hours after landing.
Southwest remains the only major U.S. carrier to allow travelers to continue to check two pieces of luggage without charge. Previously, travelers could check up to three bags free of charge. The cost for checking a third bag on Southwest is now $25.
Airline and travel experts aren't yet sure how consumers will respond to the new checked-bag policies.
"People who bring less should be charged less," says Shannon Stowell, the president of the Adventure Travel Trade Association, which represents tour operators and some international airlines.
It is not uncommon to see passengers at terminals trying to magically transform three carry-on bags into one carry-on bag and a personal item. But try that with a golf bag or a pair of skis.
Some seasoned flyers may choose to ship unwieldy luggage to their final destination to avoid checking bags at the airport. "There's almost a cottage industry in the business of shipping sports equipment to destination resorts," says Michael Berry, president of the National Ski Areas Association.
The new fees are part of a menu of items that many airlines now charge for, including making reservations on the phone or in-flight meals or movies.
Soaring Jet-Fuel Prices
Much of these new costs are a direct result of rising jet-fuel prices in the United States.
"The checked baggage fee is definitely an ancillary revenue stream for these airlines to offset rising jet-fuel prices," says Morningstar senior equity analyst Brian Nelson. "These new fees are critical for their survival."
Carriers are struggling with "the most outrageous fuel prices in their history," says David A. Castelveter, a spokesman for the Air Transport Association, a trade group that represents several domestic airlines.
While airlines grapple with fuel costs, travelers may well be grappling with one another for precious carry-on space. Many people already haul on laptops and food for the flight, and Continental's Web site, for one, encourages passengers to carry on valuable items including "electronic equipment, cameras, film, cash, jewelry, medication, prescriptions and keys."
It could get ugly. And tiring. Travelers may want to check listings at the local gym for a carry-on cardio class.
Luggage manufacturers say many consumers are searching for lighter bags that don't take up too much of the airlines' weight allowance.
"Lightweight and durable is kind of the holy grail of luggage," says Ricky Schlesinger, executive vice president for Eagle Creek and the chairman of the Travel Goods Association, a trade group for the luggage business.
Manufacturers already have luggage solutions that consumers may find handy.
Rolling duffels have a lot of capacity and are increasingly popular, says Stewart Sherman, the vice president for marketing at Travelpro. Eagle Creek has a rolling duffel with a separate piece that zips onto the front — transforming the one bag to two.
And L.L. Bean has been redesigning its luggage line with lighter nylon fabrics.
Travelers should get used to weighing their bags before a flight, much like boxers weigh in before a fight. Otherwise, it may cost them.
Some retailers, including L.L. Bean, have even been selling luggage scales that are travel-friendly.
Antlers, Anyone?
The new landscape for baggage is vast, so travelers' summer reading lists may need to include some airline Web sites.
Delta's site has a special section devoted to Christmas trees and antlers. Yes, you may check both items (special fees apply).
A note to Olympic track and field competitors: Delta won't check your javelin or vaulting pole.