Welcome to Milford: Town's View of 2008 Race
Welcome to Milford: Town's View of 2008 Race
Milford, At a Glance
Population: 14,862

Median age: 35.1 years (U.S.: 35.3 years)

Median household income: $52,343 (U.S.: $41,994)

Registered voters: 10,191

Democrats: 2,120

Republicans: 3,271

Undeclared: 4,800

Source: Census Bureau, New Hampshire Employment Security, Town of Milford
Throughout the presidential primary campaign season, All Things Considered will be focusing its attention on one town in New Hampshire, the state that historically has held the country's first primary.
We'll be visiting Milford from time to time as the campaign evolves, to hear what's on voters' minds and how they're appraising the candidates.
In many ways, Milford is emblematic of New Hampshire: It traditionally votes Republican, but has many independent voters, or "undeclared voters," as they're called in New Hampshire. Milford voted for George W. Bush in the general election in 2004 and 2000; it went for Bill Clinton in 1996 and for George H.W. Bush in 1992.
The town's population is about 15,000 today, compared with about 4,000 people in 1950. Like many towns and cities in the southern part of New Hampshire, it is attracting many newcomers from Massachusetts and elsewhere, which might make the town tilt a bit more Democratic than it has in the past.
Milford is known as "The Granite Town" in the Granite State, though nearly all the local granite quarries are closed now. It got its name from the many mills that used to operate along the Souhegan River that runs through town; those mills are gone now, too.
The town's center is the Oval, which is ringed by businesses: cafes, barbershops, a gift shop, Army-Navy store, frame shop. Many a presidential candidate has walked through the Oval, shaking hands with locals, pausing for a photo op by the gazebo.
People in Milford talk with affection about its small-town feel. Karen Roberts Walker, who owns Karen's Kollectibles on the Oval, puts it this way: "You get to know people by their first name. Our customers become our friends. The local policeman comes walking around at night to check your doorknob of your business — you only see that in Mayberry RFD!"
Go to Milford, and every hour, you'll hear the ringing of a bell that was cast by Paul Revere in 1802. It is in the clock tower on town hall, located on the Oval.
Presidential candidates who visit Milford often take a walk through the Oval and get lunch at the River House Café.
Charles Burke runs the diner's tiny kitchen, and he feeds the parade that tromps through his door every four years.
"It's a carnival atmosphere. And it is lots of fun meeting people that truly, you know, in three months could care less about you and have totally forgotten about you," Burke says. "For some reason, we are blessed — or cursed — with the primary in New Hampshire, and that's our fate."
Presidential hopefuls have already begun visiting the town: John McCain made a stop on March 17. But many people think it is still too soon.
Republican Tim O'Connell, a state representative, says he thinks it is at least six months, if not a year, too early for the current level of intensity and activity.
With other states moving their primaries up earlier, O'Connell and his wife Noreen — a member of the town's board of selectmen — expect that New Hampshire will respond by leapfrogging earlier still. That potentially means a primary in 2007.
"It's by law. We will have our primary first," O'Connell says, joking that it might happen on Thanksgiving. He also notes that there is speculation that the primary could happen in December, depending on what other states do, and the town is preparing for that possibility.
Even so, the upcoming primary feels very far away for most people in Milford. Most aren't focused on the candidates yet. Some have trouble remembering just who is running.
For now, residents are more focused on local issues. Hot topics at a recent local election included divisive races for the board of selectmen, and whether to build an outdoor track for the high school and a building with facilities for maintenance workers at the cemetery. The citizenry's focus will likely begin to change, though, as campaigning for the 2008 presidential primaries gears up.
Diner Serves Up Photo Ops, Food to Candidates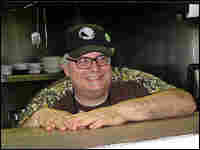 If you go to Milford, N.H., and feel brave, you just might order the Milford Cow Pie at the River House Café, a cozy diner perched above the Souhegan River right in the center of town. You'll end up feasting on a burger settled on a pile of mashed potatoes, topped with cheese, onion rings and lots of gravy - $6.95 for the works.
But a presidential candidate rolling through Milford — and looking for a perfect small-town photo op — might order more judiciously. After all, who wants to face that inevitable cow pie headline?
In Howard Dean's case, he went for the blueberry pancakes. The cook at the River House Café, Charles Burke, told me that Heidi, the weekend waitress, offered Dean maple syrup from New Hampshire.
"But he was only interested in it if it were from Vermont. So that kinda told us that Mr. Dean may not do as well as what he had hoped," Burke said.
The café does have a copy of a photograph of Dean sitting in the restaurant and smiling, but it is nowhere on display. Burke had to reach up to a high shelf in the sweltering kitchen and paw through a stack of clutter before he found it to show us.
Burke told me that George W. Bush was good company when he stopped in during the 2000 campaign.
"Mr. Bush was absolutely hilarious," Burke said. "And if anybody ever wanted to go to a party, you'd take him because he's really an amusing individual. You know, people do have their likes and dislikes based on him, but from what we saw, he was a lot of fun. We enjoyed him."
There used to be a sticker marking the corner stool where Bush sat, but patrons pulled it off.
"We've replaced it a few times, because that's where he sat. And people continue to take it off, and that's the way it is," Burke said.
A few seats down, there is a sticker on a stool that reads "GORE SET HERE." No one has bothered taking that one off. Burke said he doesn't think anyone really notices it.
Here's the story about the day Al Gore came to town. In January 2000, Gore's entourage came into the café about 15 minutes ahead of the then-vice president and politely informed them that Mr. Gore would be having the lamb.
Trouble is, the River House Café doesn't serve lamb. It's a diner. You want a tuna melt? They'll make you a dandy tuna melt. You want split pea soup? You'll love the split pea soup.
But if you're the vice president, you order something that isn't on the menu. And you send the café staff running to a nearby Greek restaurant to lay in a supply of lamb — which they did.
Now, I'm not saying there is a connection. But that November, Al Gore lost the Milford vote to George W. Bush.